Spiced Rhubarb, Orange and Ricotta Cake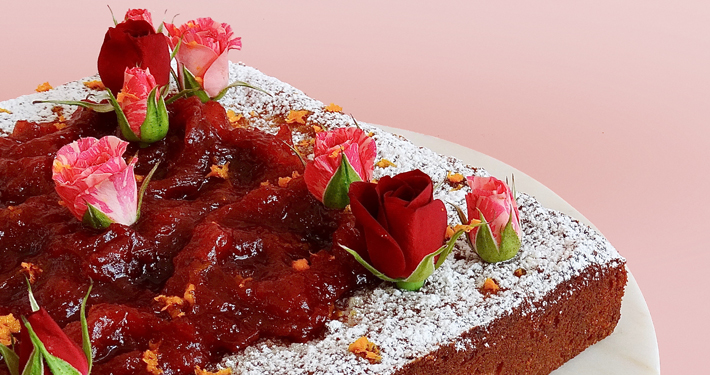 Preparation Time:
80 minutes
Please select the seprator type
Ingredients
For the rhubarb compote:
2 stems of rhubarb, washed and cut into 1cm chunks
1 tbsp fresh orange juice
1 tbsp caster sugar
For the cake:
180g butter, softened 
180g caster sugar
1 tsp vanilla extract 
6 free range eggs, separated
300g ricotta
zest and juice of 1 orange 
1 tsp cinnamon
1 tsp allspice 
250g ground almonds 
50g plain flour 
Decorations:
Fresh flowers (optional)
Method
First, make the rhubarb compote. Combine all ingredients in a saucepan. Bring to a boil over medium heat, stirring occasionally. Continue to gently simmer for about 5 minutes until soft and falling apart. Set aside to cool.
Preheat oven to 160°C fan bake. Grease and line a 22cm x 22cm square cake tin with baking paper. 
In the bowl of an electric mixer, beat the butter, sugar and vanilla together until pale, light and fluffy.
Add the egg yolks one at a time, beating well between each addition. 
Add the ricotta, orange juice and zest and spices and gently mix.
 Finally, add the ground almonds and flour and mix until just combined.  
Spoon the batter into the prepared cake tin and bake for approximately 50 minutes or until springy to the touch and a skewer comes out clean.
Allow the cake to cool for 10 minutes before turning out onto a cooling rack.
Serve the cake warm with a generous amount of the rhubarb compote. Decorate with fresh flowers if desired.
Refrigerate in an airtight container for up to 3 days.