Passionfruit and Strawberry Ricotta Cheesecake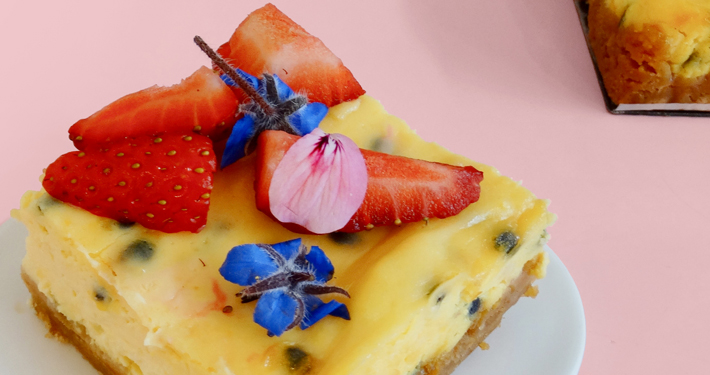 Preparation Time:
90 minutes
Please select the seprator type
Ingredients
For the base:
250g Super Wine biscuits  
140g butter, melted 
Pinch sea salt
For the filling:
250g ricotta
250g cream cheese, melted
100g caster sugar
1 tbsp lemon zest
1 tsp vanilla extract 
3 free range eggs
180ml passionfruit pulp 
For the topping:
200g fresh strawberries, hulled and quartered 
Fresh flowers (optional)
Method
Line a 22cm x 22cm square cake tin with baking paper.
Place the biscuits in the bowl of a food processor and blitz until they resemble fine breadcrumbs.
Add the butter and salt and mix to combine.
Press the mixture into the base of the tin and refrigerate for 30 minutes until firm and cold.
Preheat the oven to 160ºC. 
Place the ricotta, cream cheese, caster sugar, lemon zest and vanilla in the bowl of a food processor and process until smooth.
Gradually add the eggs, processing well after each addition.
Fold through the passionfruit pulp and pour the mixture over the base. 
Bake for 25–30 minutes or until set. 
Allow to cool completely before topping with the quartered strawberries and flowers if using.
Serve at room temperature.