Roasted Strawberry and Ricotta Tart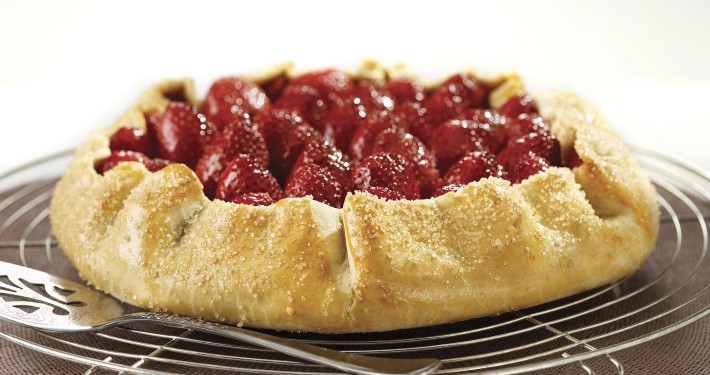 Preparation Time:
15 minutes
Ingredients
2 cups plain flour
1 ½ cups almond meal
125g chilled butter, cubed
¼ cup chilled water
2 eggs, separated
2 punnets strawberries, hulled
10g butter, extra, melted
2 tbsp raw sugar
Method
Place flour, 1/4 cup almond meal and butter in a food processor and pulse until mixture resembles breadcrumbs. Add water and blend until pastry just comes together.
Roll out dough into a 33cm circle and transfer to a lined baking tray.
Combine egg whites, remaining almond meal and Ricotta, spread evenly over base of pastry, leaving a 5cm border. Arrange strawberries over ricotta layer and lightly brush with butter.
Turn overhanging pastry over the strawberries and crimp decoratively.  Brush with egg yolk and sprinkle with raw sugar. Bake at 200°C for 30-35 minutes or until golden. Serve warm with ice cream.
FRESH TIP
Do not overcook this tart as the strawberries will collapse. Use other seasonal fruit for this recipe including Black Doris plums, apricots or nectarines.