Baked Pumpkin, Spinach and Ricotta Stuffed Shells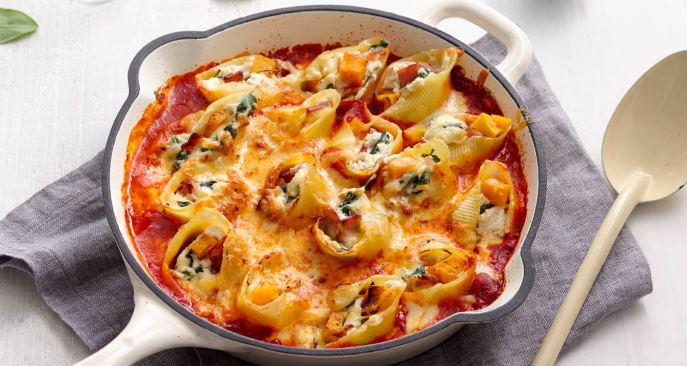 Preparation Time:
15 minutes
Ingredients
250g jumbo pasta shells
2 tbsp olive oil
1 garlic clove, finely chopped
700g jar Italian tomato Passata sauce
80g Perfect Italiano™ Parmesan, grated
¼ tsp nutmeg
4 bacon rashers, chopped
300g butternut pumpkin, peeled and chopped into small cubes
1 bunch spinach, washed and finely chopped
Method
Preheat the oven to 200°C.
Place the pumpkin on a medium-sized baking tray and toss in 1 Tbsp. of olive oil. Season with salt and pepper. Place the tray in the oven and roast for 20-30 minutes or until just cooked through. Set aside to cool.
Cook the pasta shells in a large saucepan of boiling water until just tender, following the packet directions. Drain shells and set aside.
In a large frying pan, heat 1 tablespoon of olive oil over a medium heat. Add the bacon and fry for 3-4 minutes or until the bacon starts to turn golden brown. Add the garlic and fry for a further 1 minute. Add the nutmeg and spinach and continue to cook for 3-4 minutes. Transfer into a bowl and leave to cool.
Once the spinach, bacon and pumpkin are cool, mix the ingredients together along with the Ricotta and 30g  of Parmesan. Season with salt and pepper. Mix well and then spoon the mixture evenly into the pasta shells.
In a medium-sized baking dish, layer the stuffed shells on half of the tomato passata, and spoon the remainder of the passata around the shells.
Drizzle with remaining olive oil and sprinkle over the Mozzarella and remaining Parmesan.
Bake for 20-25 minutes or until the cheese is melted golden brown.
Remove from the oven and rest for a few minutes before serving.
FRESH TIP
Add some lemon zest and chopped parsley to the ricotta mixture before stuffing the pasta shells for added freshness and colour.