Italian Meatball Pasta Bake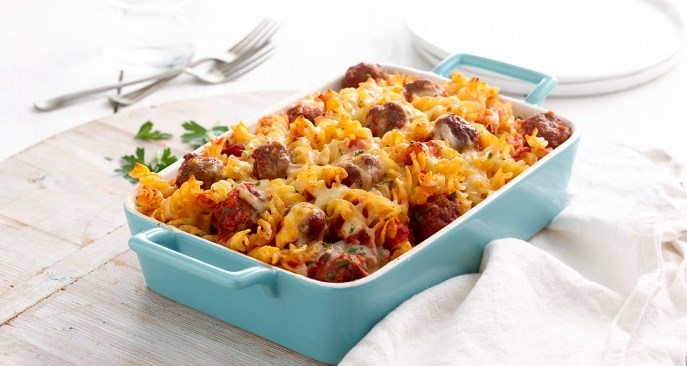 Preparation Time:
15 minutes
Ingredients
Meatballs
500g beef mince
2 cloves garlic, crushed
1 egg, lightly beaten
110g cup Perfect Italiano™ Parmesan, grated
¼ cup dried breadcrumbs
Salt and black pepper
Pasta Bake
¼ cup olive oil
1 small brown onion, finely chopped
250ml beef stock
400g can Italian chopped tomatoes
2 tbsp flat leaf parsley, roughly chopped
400g fusilli (spirals) pasta
salt and black pepper
150g pack Perfect Italiano™ Mozarrella
Method
Meatballs
Preheat the oven to 200°C.
Place the beef mince, garlic, egg, 35g Parmesan and breadcrumbs in a bowl. Season with salt and pepper and mix well to combine. 
Separate the mixture into small balls, each about the size of a tablespoon.
Place the olive oil in a large frying pan or saucepan over a high heat. Add the meatballs and cook for 5 minutes or until well browned, turning occasionally. Remove from the pan and set aside.
Pasta Bake
Place the onion into a large heavy based pan and stir over a medium heat for 5 minutes or until soft. Add the stock and tomatoes then simmer for 5 minutes or until mixture reduces slightly. 
Return the meatballs to the pan, and bring to the boil. Cover and cook for 10 minutes or until the sauce thickens. Remove from the heat and stir through the parsley.
Cook the pasta in a large saucepan of boiling water until just tender, following the packet directions. Drain and return to the pan, add the meatballs and sauce and toss to combine. Season with salt and pepper.
Transfer into a large baking dish and sprinkle over the Mozzarella and remaining Parmesan cheese.
Bake for 20 minutes or until the cheese is melted golden brown.
Remove from the oven and rest for a few minutes before serving.
FRESH TIP
Add some fresh or dried chili to the sauce for an extra spicy kick.