Roasted Cauliflower with Mozzarella Cheese Sauce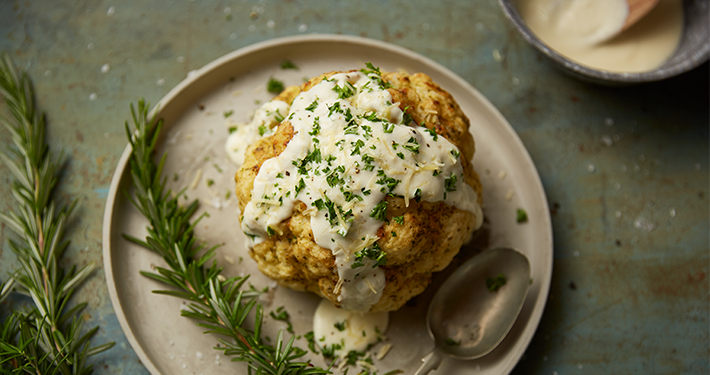 Preparation Time:
10 minutes
Please select the seprator type
Ingredients
Cauliflower Ingredients
1 tablespoon kosher salt
2 teaspoons black peppercorns
1 head of garlic, smashed
1/2 lemon
1 bay leaf
2 tablespoons olive oil
1 medium head of cauliflower, leave removed and core cut off a bit on the bottom so it sits flat
Cauliflower crust:
2 tablespoons olive oil
1/2 tablespoon dried parsley
1/4 teaspoon garlic powder
1 teaspoon dijion mustard
1/2 teaspoon kosher salt
Mozzarella cheese sauce:
2 tablespoons butter
2 tablespoons brown rice flour
2/3 cup heavy cream
2 1/2 cups two percent milk
60g Perfect Italiano Mozzarella, grated
60g Perfect Italiano Parmesan, grated
1/4 teaspoon salt
1/2 tablespoon minced fresh rosemary
2 tablespoons minced fresh parsley
Grated fresh nutmeg to serve
Method
Preheat oven to 450 degrees.
Bring large pot of water. Stir in all of cauliflower ingredients, then put in cauliflower, core side facing the ceiling (so top of head down). Simmer for 15 minutes, until cauliflower is fork tender.
Drain cauliflower, and carefully place it on parchment lined sheet pan. Whisk crust ingredients together and brush all over cauliflower crust (if your cauliflower is really large, use an extra tablespoon of oil when mixing the ingredients up). Bake for 40 minutes, until crust is charred and brown. You can broil for a few minutes at end to really get crispy edges.
Meanwhile, heat butter in a saucepan on medium to melt. Whisk in flour, and cook for 2 to 3 minutes, stirring constantly, so flour can get heated through. Then whisk in cream and milk, until smooth. Add salt and bring to a boil, then turn down to simmer. Cook for 10-12 minutes, until sauce starts to thicken.
Add grated cheese and whisk, until melted. Cook for one minute, then add rosemary, parsley, a few gratings of fresh nutmeg and grated parmesan. Taste, and add a little salt if needed.
Pour over warm cauliflower, and reserve some for dipping.