Italian Style Roast Potato and Pasta Bake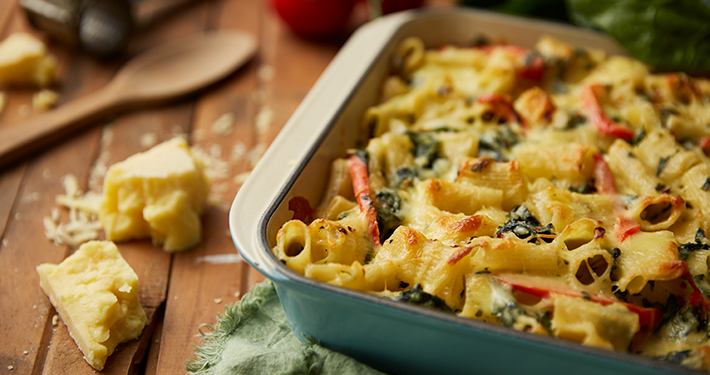 Preparation Time:
10 minutes
Ingredients
250g small or new potatoes (skin on), 1cm diced
150ml olive oil
250g penne pasta
3 cloves garlic, finely chopped
½ brown onion, finely diced
2 sprigs rosemary
80g kalamata olives
1 tbsp capers
¼ bunch parsley, roughly chopped
150g of Perfect Italiano™ Mozzarella
salt and black pepper

Method
Preheat oven to 180°C
Place diced potatoes into a pot of salted water, bring to the boil then remove from heat. Drain well then pat dry to remove moisture and allow to dry. Add half of the olive oil and all the potatoes into a roasting tray and toss then roast in oven for 15 minutes or until they begin to brown, then remove.
At the same time bring to boil another large pot of salted water and cook pasta until al dente and drain well.
Add the remaining oil, garlic, onion and rosemary to a medium sized saucepan over medium to low heat. Sauté for 3-4 minutes to lightly cook and infuse the flavours then remove from heat. Add chopped olives, capers and parsley and stir through.
Combine all ingredients with half of the Mozzarella and Parmesan cheese and season with salt and pepper. Place in a baking dish and top with remaining cheese and bake in the oven for 25 minutes or until cheese is melted golden brown. 
Remove from oven and rest for a few minutes before serving.
FRESH TIP
Perfect served on its own, or as a side dish alongside grilled white fish or chicken.