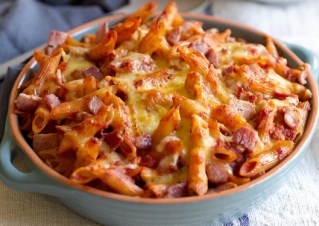 Preparation Time:
10 minutes
Ingredients
3 rashers middle bacon, diced
2 cans of 400g diced tomatoes
1 red onion, finely chopped
2 tsp dried chilli flakes
3 cloves garlic, chopped
1 tbsp olive oil
200ml red wine
400g penne pasta
salt and pepper, to taste
Method
Preheat oven to 180C.
In a large frying pan with deep sides, heat the olive oil over a medium heat. Add the bacon and cook until golden brown. Reduced the heat to low, add the onion, and cook for another 8 minutes or until the onion softens. Add the dried chilli and garlic and continue to cook for 2-3 minutes.
Pour in the wine and reduce until all the liquid has nearly evaporated. Add the tomatoes, season with salt and pepper, and simmer for 20 minutes until the sauce thickens.
Meanwhile, cook the penne according to packet instructions. Drain into a colander and set aside until the sauce is ready.
Once the sauce has thickened, add the penne and stir well to evenly coat the pasta. Transfer to a large baking dish and sprinkle over the Mozzarella and Parmesan Cheese. Place into the preheated oven and cook for 15-20 minutes or until the cheese melts and turns golden.