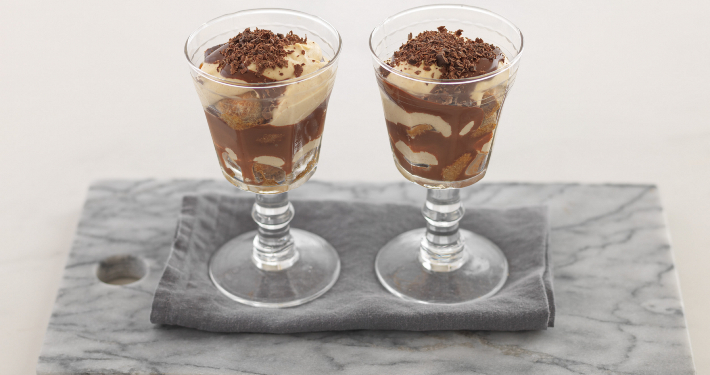 Preparation Time:
20 minutes
Refrigeration Time:
1 hour
Ingredients
250g tub Perfect Italiano™ Ricotta
2 egg yolks
2 tbsp caster sugar
1 tsp cinnamon
350ml pure cream
100g dark chocolate
½ cup hot, strong, freshly brewed black coffee
1 tbsp caster sugar, extra
½ cup Marsala
18 mini sponge fingers
cocoa, for dusting
Method
Beat ricotta, yolks, sugar and cinnamon together until thick. Add 200ml cream and beat until soft peaks form.
Bring remaining cream to a gentle simmer, remove from heat and stir in chocolate until melted.
Combine the coffee, extra sugar and Marsala together and allow to cool.
Break the biscuits in half, dip in coffee syrup. Assemble two layers of biscuits, ricotta and chocolate mixture into 6 serving glasses.  
Refrigerate for at least 1 hour before serving, dusted with cocoa.
FRESH TIP
Sprinkle the top with grated chocolate instead of cocoa.