Italian Sausage & Onion Pizza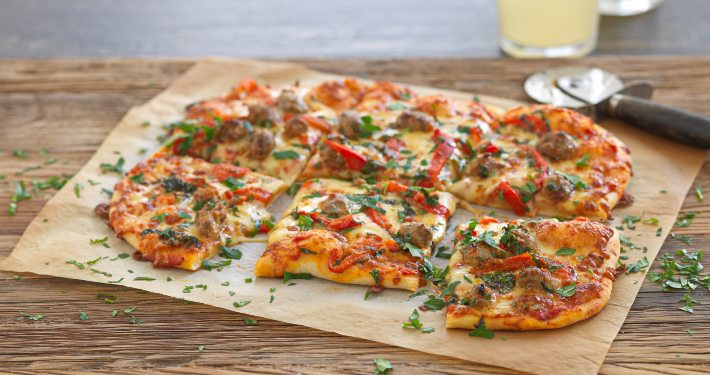 Preparation Time:
5 minutes
Ingredients
15g butter

splash of olive oil
¼ small onion, finely diced
1 garlic clove, finely diced
1 pork sausage, casing removed
1 roasted and peeled capsicum, finely sliced
¼ teaspoon smoked paprika
a handful of fresh flat leaf parsley, roughly chopped
1 x 30cm Pizza Base
3 tbsp Homemade Pizza Sauce
chilli oil, to drizzle

⅓ packet of Perfect Italiano™ Perfect Pizza
Method
Preheat oven to 250°C.
Heat butter and oil in a deep frying pan over medium heat. Add onion and garlic and cook for 5 minutes or until softened. Add torn pieces of sausage and cook for another 5 minutes until sausage meat is lightly browned. Add capsicum, paprika and continue cooking for 3 minutes. Set aside to cool completely, then stir through parsley.
Spread pizza base with Homemade Pizza Sauce, drizzle with chilli oil and sprinkle over Perfect Pizza to evenly cover the base followed by the sausage mixture.
Place pizza in the oven for 10-15 minutes until the cheese is melted and base is crispy, remove from oven then cut and serve.
FRESH TIP
For added flavour, add some caramelised onions at stage 3.