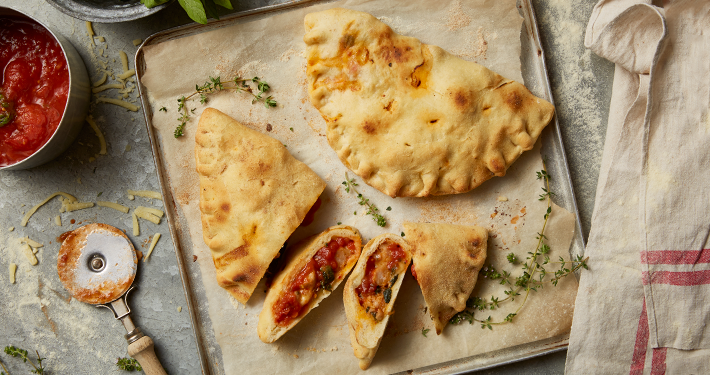 Preparation Time:
20 minutes
Please select the seprator type
Ingredients
Calzone dough
2 tbsp dried granular yeast
500ml lukewarm water
750g plain flower
80g cornmeal or polenta
2 tsp salt
125ml olive oil
Filling
Method
Filling:
Heat the oil in a large non-stick frypan.
Add the onion and cook for 2 - 3 minutes.
Remove the sausage meat from the casing and add to the pan breaking into bite-sized pieces.
Cook for a further 3 - 4 minutes or until lightly golden.
Add the fennel seeds and chilli flakes then stir in the tomato paste, spinach leaves and water and cook for a further 3- 4 minutes or until cooked and thickened.
Set aside to cool completely while you prepare the pizza base.
Dough:
Sprinkle the dried granular yeast into the water. Leave to dissolve for 5 – 10 minutes.
Combine the flour, cornmeal and salt in a large mixing bowl. Make a well in the centre and slowly add olive oil and yeast mixture. Stir with a wooden spoon until the mixture is roughly combined. It will be quite moist.
Lightly flour a work surface and top out the dough. Knead for 8 – 10 minutes, until smooth and elastic. Place the dough in a large, clean, oiled bowl, cover and leave to rise for 1 hour, or until doubled in size.
Preheat the oven to 220°C. Knead the dough again a few times, then divide it into six equal parts to make six 20-25cm calzone. Place on a lightly floured baking sheet.
Place a slice mozzarella on each base for extra cheesiness, then spoon over mixture. fold each base into half over the filling. Crimp the edge so the filling cannot spill out.
Cook in the middle of the preheated oven for 14 – 16 minutes or until Puffy and golden.