Cauliflower Pizza Crust Recipe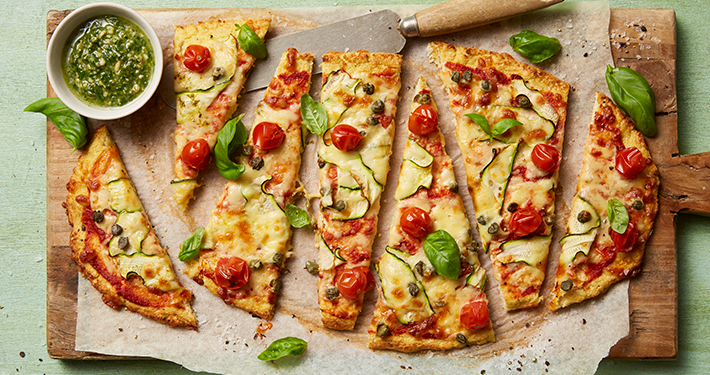 Preparation Time:
10 minutes
Please select the seprator type
Ingredients
Base:
6 Cups (600g) Cauliflower florets, roughly chopped
¾ Cups (90g) Almond meal
½ Cups (40g) Finely grated Perfect Italiano Parmesan cheese
3 eggs, lightly beaten
Sea salt and black pepper
Toppings:
Pizza sauce
Courgette ribbons
Capers
Cherry tomatoes
Fresh basil leaves
Method
Preheat oven to 200°C
To make the cauliflower pizza bases, lightly grease 2 x 30cm round pizza trays and line with non-stick baking paper. Place the cauliflower, in batches, in a food processor and process until the mixture resembles fine crumbs.
Transfer to a large bowl, add the almond meal, parmesan, egg, salt and pepper and mix until a soft dough forms. Divide the mixture in half and press into the prepared trays. Bake for 20–25 minutes or until golden and crisp.
Place your toppings on your base and top with Perfect Italino Pizza Plus cheese.
Bake for 8–10 minutes.
Top each pizza with Perfect Italiano Mozzarella and basil to serve.