Ham & Pepperoni Stromboli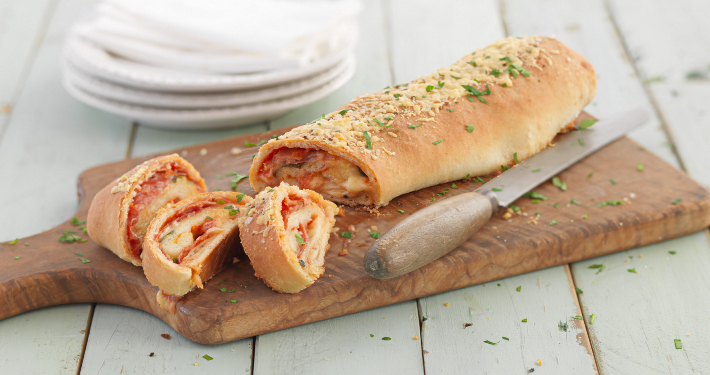 Preparation Time:
10 minutes
Method
Roll out the dough on a lightly floured surface into a rectangle measuring about 44cm x 32cm.
Spread the tomato sauce over the dough, leaving a 2cm border around the edge. Sprinkle the Perfect Pizza evenly over the sauce. Place a row of pepperoni and a row of ham over the cheese and scatter the basil leaves on top.
Tuck in the two short ends and roll the Stromboli up firmly to enclose the filling. Place it, seal-side down, on a large baking tray lined with baking paper and leave to rise for 30 minutes.
Preheat the oven to 220C.
Brush the oil over the dough, sprinkle with parmesan and bake for 25–30 minutes until well risen and golden brown.
Cut into thick slices to serve.
FRESH TIP
Make a mini stromboli if you have leftover pizza dough and ingredients.