Cannoli with Ricotta Cream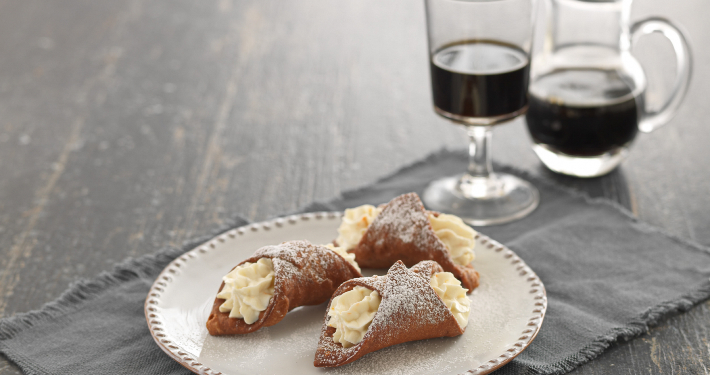 Preparation Time:
45 minutes
Ingredients
Cannoli (or use pre-made cannoli shells)
150g plain flour, plus extra for dusting
1 tbsp caster sugar
1/8 tsp bi carb soda
2 tsp dutch cocoa
½ tsp cinnamon
1 egg yolk, lightly beaten
40g butter, melted
¼ cup marsala
vegetable oil, for frying
Ricotta Cream
40g icing sugar
1 tsp orange zest
icing sugar, for dusting
Method
In a medium bowl, combine the flour, sugar, bi carb soda, cocoa and cinnamon. In another medium bowl, whisk together the egg yolk, butter and marsala. Pour the liquid into the dry ingredients, and stir until a dough forms.
Place the dough onto a lightly floured clean surface and knead for 5-10 minutes or until elastic. Cut the dough in half and roll each piece of dough using a floured rolling pin (or pasta machine on the second lowest setting) until very thin. Cut the pastry into 11 cm squares. Working with one square at a time, lay a lightly oiled metal cannoli tube diagonally along a pastry square, and fold the opposite corners of the pastry inwards to connect the corners.
Heat the oil in a large pot or deep fryer until it reaches 180°C. Working in batches, deep fry the cannoli shells for 2-3 minutes or until golden, and then remove from the oil and drain on paper towel. Once cooled slightly, slide the cannoli off the metal tube. Continue this process until all the cannoli are cooked.
Meanwhile, make the ricotta cream by combing the ricotta, icing sugar and orange zest in a medium bowl until thoroughly mixed. Refrigerate until ready to assemble.
Once completely cool, assemble the cannoli by piping ricotta filling into the pastry shells, and dust generously with icing sugar. Serve immediately.
FRESH TIP
Metal cannoli tubes can be found in specialist kitchen and cooking shops. If you are unable to find cannoli tubes, used dried cannelloni tubes instead (you won't need to oil the cannelloni tubes).