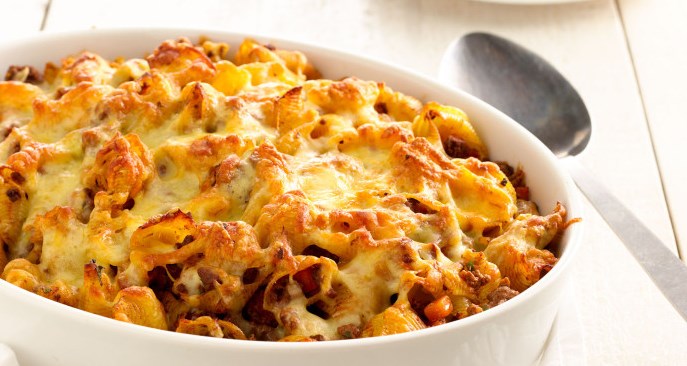 Preparation Time:
10 minutes
Cooking Time:
1 hour, 10 minutes
Ingredients
600g beef mince
½ onion, diced
1 carrot, diced
2 cloves garlic, finely chopped
2 sprigs of thyme
375ml beef stock
2 tbsp. tomato paste
400g can crushed tomatoes
2/3  cup red wine (optional)
¼ bunch parsley, roughly chopped
200g pasta shells large
salt and black pepper
Method
Preheat oven to 180°C.
To make the ragu sauce, heat a heavy-based pot over medium heat. Add a splash of olive oil, the diced onion and carrot and cook for 5-6 minutes, stirring often. Add garlic and cook for a further 1-2 minutes.
Add the beef mince and cook until browned, stirring well. Add tomato paste, lowering heat for 2-3 minutes.
Raise heat and add the wine, stock, tomato puree and thyme, and bring to the boil. Reduce heat and simmer for 30 minutes, stirring often. Season with salt and pepper if required.
Bring a large pot of salted water to the boil. Add pasta and cook until al dente then drain well. Stir the drained pasta through the finished ragu sauce, and add chopped parsley.
Place in a large baking dish and top with Mozzarella and Parmesan. Bake in oven for 35 minutes until cheese is melted golden brown. Remove from oven and allow to rest for a few minutes before serving.
FRESH TIPS
For a little extra kick add 1 teaspoon of fresh chilli and a pinch of paprika at step 2
Add extra vegetables, like zucchini, with the carrot