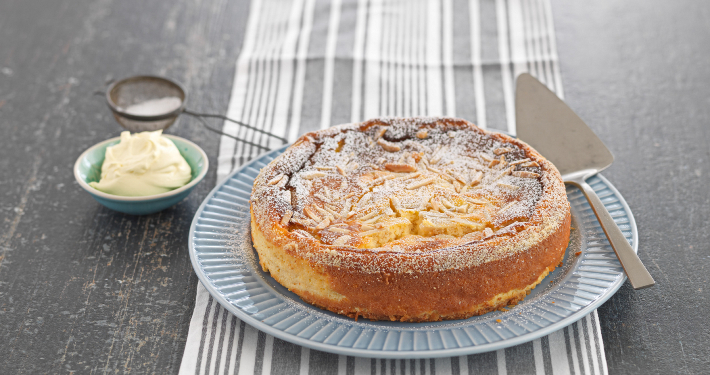 Preparation Time:
15 minutes
Cooking Time:
1 hour, 5 minutes
Ingredients
3 x 250g tubs Perfect Italiano™ Ricotta
1 cup sugar
4 egg yolks
1 tsp vanilla extract
¼ cup thickened cream
4 egg whites
grated rind of 1 lemon
grated rind of 1 orange
2 tbsp raisins soaked in 2 tbsp brandy
2 tbsp softened butter
4 digestive biscuits, crushed
¼ cup slivered almonds 
icing sugar to dust
Method
Preheat oven to 210°C.
Place ricotta in a sieve over a bowl for a few minutes to drain.
Place ricotta and sugar in a large bowl and mix well
Add egg yolks and vanilla and mix until smooth. Stir in cream.
Whip egg whites in a separate bowl until stiff peaks form. Fold gently into Ricotta mixture along with raisins, lemon and orange rind.
Grease a 22 cm round springform cake pan with butter and sprinkle with biscuit crumbs. Pour filling into tin and smooth surface with a spatula. Sprinkle almonds over the top of the filling.
Place in oven and bake for 10 minutes, then reduce heat to 180°C and continue to cook for another 40-45 minutes, or until the cake is nicely browned on top and just set.
Remove from the oven and allow to cool.
Dust with icing sugar to serve.