Roasted Tomato and Prosciutto Parmesan Salad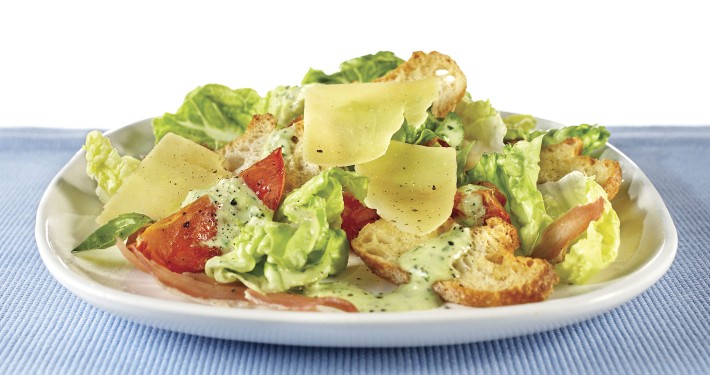 Preparation Time:
15 minutes
Ingredients
4 ripe roma tomatoes, cut into quarters
live oil, for drizzling
salt and freshly ground black pepper, to taste
6 slices prosciutto
1 clove garlic, cut in half
1 small sourdough baguette, thinly sliced
1/3 cup good quality mayonnaise
1 tbsp red wine vinegar
¼ tsp sugar
1 ½ tbsp good quality basil pesto
1 baby cos lettuce, washed and leaves torn
¼ cup small fresh basil leaves
1 cup Perfect Italiano™ Parmesan, shaved
Method
Place tomatoes on a baking paper lined baking tray, cut side up. Drizzle with oil and season to taste.
Bake at 180°C for 10 minutes or until tomatoes are just tender.
Place prosciutto on a foil lined baking tray and cook under a hot grill until crisp. Allow to cool and break into large pieces.
Rub garlic clove over sliced bread and bake at 160°C for 10 minutes or until golden brown and crisp.
Blend mayonnaise, parmesan, vinegar and sugar in a food processor until creamy. Add pesto and pulse until just combined.
To serve, scatter lettuce leaves on a serving plate, top with prosciutto, toasted bread, tomatoes, basil leaves and shaved parmesan. Drizzle with dressing.
FRESH TIP
Tomatoes can be cooked a day ahead and refrigerated. Dressing can also be made ahead of time and refrigerated. Use your favourite lettuce mix for this salad.