Roasted Pumpkin, Chilli and Ricotta Dip Recipe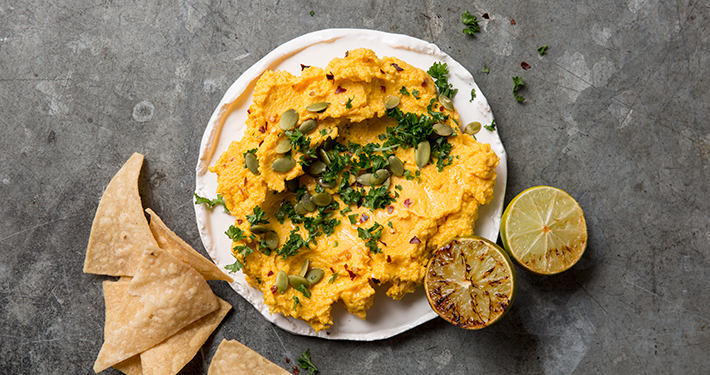 Preparation Time:
50 minutes
Ingredients
750g piece pumpkin, seeds and skin removed and cut into 3 – 4 cm pieces
¼ - ½ cup olive oil
¼ - ½ tsp chilli flakes
salt
1 Tbsp runny honey
juice of 1 large lime
2 Tbsp chopped parsley or coriander to serve
1 Tbsp pumpkin seeds, to serve
lime halves, charred
Method
Preheat the oven to 180C. Toss the pumpkin in 1 - 2 tablespoon of the oil, chilli flakes and salt. Cook in the preheated oven for 30 – 40 minutes or until lightly golden and cooked through. Set aside and leave to cool completely.
Put the cooled pumpkin, honey, ricotta, lime juice and a further 3 - 4 tablespoons of oil in a food processor.  Blitz until smooth. Taste and season with more salt or chilli flakes if liked and add more oil if too dry.
Place on a plate or bowl with parsley, pumpkin seeds and extra chilli flakes to garnish.  Serve with charred lime halves for squeezing if liked.