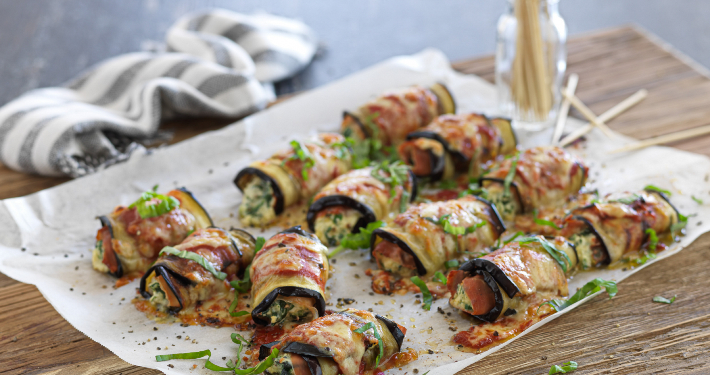 Preparation Time:
25 minutes
Ingredients
2 large eggplants, cut lengthways into 1cm slices
20g butter, melted
350g pack of frozen spinach, defrosted with excess moisture squeezed out
75g Perfect Italiano™ Parmesan, grated
¼ cup chopped flat leaf parsley
1 egg, lightly beaten
salt and freshly ground black pepper
100g thinly sliced prosciutto, cut into thirds
1 cups Italian tomato cooking sauce
Method
Preheat oven to  180°C.
Brush eggplant with butter and cook under a hot grill or on a grill plate until golden and cooked.
Combine spinach, Ricotta, Parmesan, parsley, egg and seasonings. Top each eggplant slice with prosciutto. Place tablespoonfuls of cheese mixture along the narrow edge of the prosciutto and roll up to resemble cannelloni.
Place rolls in a buttered 25cm x 30cm baking dish. Pour tomato sauce over eggplant rolls and sprinkle with Perfect Pizza. Bake in the oven for 45-50 minutes or until cooked and golden. 
Serve as an antipasto or as part of an aperitivo buffet.
FRESH TIP
You can also serve these bite sized involtini as a main, just add salad and crusty bread.