Prosciutto, Mozzarella and Red Capsicum Piadina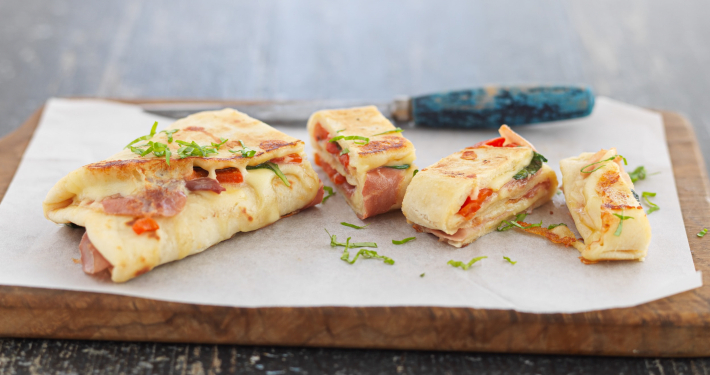 Preparation Time:
20 minutes
Ingredients
Bread:
400 g flour
1 tsp baking powder
¾ tsp salt
3 tbsp olive oil
½ cup milk
¼ cup water
Filling:
6 - 8 slices prosciutto
2 roasted red capsicums, chopped
2 tbsp chopped fresh basil
Method
Place the flour, baking powder and salt into a bowl. Stir in the olive oil, milk and water.
Knead the dough for 10 minutes or until it is smooth and elastic.
Divide the dough into 4 equal pieces. Roll each piece of dough into a circle about 2 to 3 mm thick
Warm a pan over a medium heat with a dash of oil and cook the flat breads one at a time for 2 to 3 minutes on each side until light golden brown.
Sprinkle some of the mozzarella, 1 slice of prosciutto, some red capsicum and basil over one third of the pan bread. Fold the bread over the top of the filling and cover the middle third with more filling ingredients. Fold the remaining third of the bread back over the filling. Cook for a further 1 to 2 minutes on each side until the filling has melted.
Cut into slices to serve.