Pea Pesto with Ricotta Dip Recipe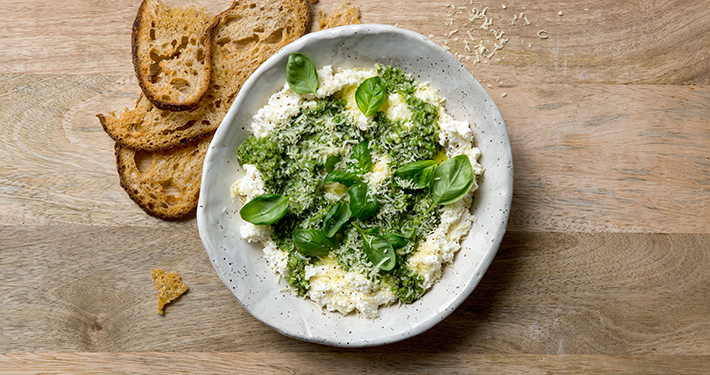 Preparation Time:
5 minutes
Ingredients
1 cup frozen peas, thawed
½ cup basil leaves, plus more for garnish
½ cup mint leaves, plus more for garnish
¼ cup grated Perfect Italiano Parmesan
1 garlic clove, finely grated
¼ cup olive oil, plus more for garnish
Kosher salt and freshly ground black pepper, to taste
1 pound fresh Perfect Italiano Ricotta
Toasted bread, for serving
Method
In a food processor, combine the peas, basil and mint leaves, Parmesan and garlic. Purée until coarsely chopped. Add the olive oil and process until you have a chunky paste, then season with salt and pepper.
Spread the ricotta on a plate and dollop the pesto on top. Next, swirl the pesto into the ricotta and garnish with basil, mint, olive oil, pepper and flaky sea salt, then serve with toasted bread.