Caramelised Onion, Fig and Gorgonzola Pizza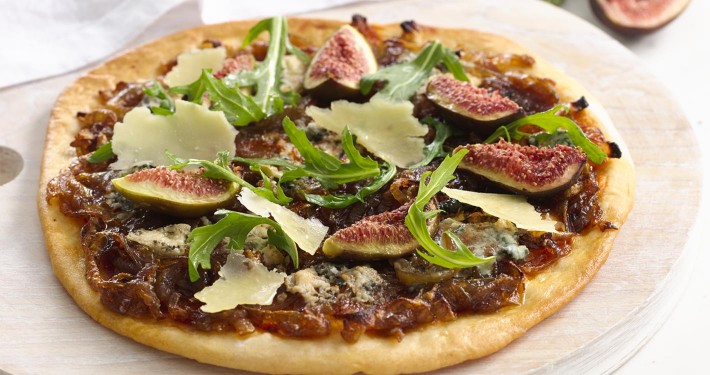 Preparation Time:
10 minutes
Ingredients
1 x 30cm Pizza Base
25ml olive oil
1 clove garlic, finely chopped
½ rosemary sprig
pinch dried oregano
15g butter
1 onion, thinly sliced
1 tbsp brown sugar
splash of balsamic vinegar
1 fig, sliced into 6 pieces
25g Gorgonzola cheese
a handful of fresh rocket leaves
25g Perfect Italiano™ Parmesan, shaved
salt and black pepper
Method
Preheat oven to 250°C.
In a small bowl mix a quarter of the olive oil with the garlic, rosemary and oregano. set aside.
Heat butter and remaining oil in a deep frying pan over medium heat. Cook onion for 10 minutes stirring often until softened. Reduce heat to low, add sugar and cook for another 10-15 minutes until soft and light brown in colour. Remove from heat, add balsamic vinegar, season with salt and pepper and stir through.
Brush the pizza base with the garlic and rosemary oil and top with caramelised onion, figs and small chunks of Gorgonzola evenly placed around the pizza.
Place the pizza in the oven for 10-15 minutes until the cheese is melted and base is crispy, remove from oven then top with rocket and parmesan, cut and serve.
FRESH TIP
If figs are not in season or are unavailable, replace with thin slices of fresh pear
If you can't find Gorgonzola cheese, try a blue vein or Stilton style. For a lighter blue cheese flavour, look for a creamy blue cheese