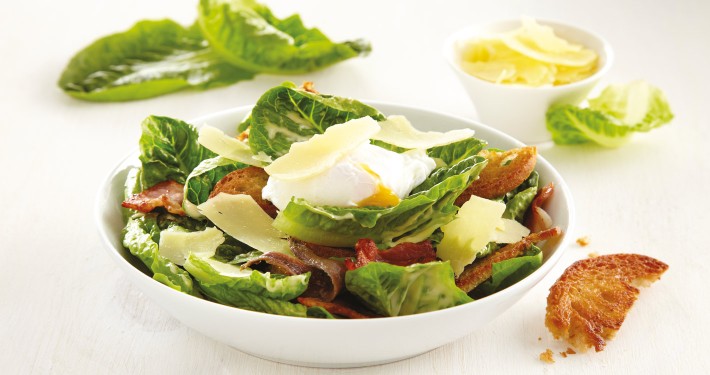 Preparation Time:
20 minutes
Ingredients
2 rashers of lean bacon, sliced
4 slices Ciabatta, cut into cubes

2 cos lettuce hearts, washed
4 boiled eggs, quartered
4 anchovies
Perfect Italiano™ Parmesan, shaved
Dressing
1 cup mayonnaise
1 garlic, crushed into fine paste
1 tsp mustard
1 tsp lemon juice

salt and pepper, to taste
Method
Fry bacon in a little olive oil. Remove from pan and drain excess oil on a paper towel. Add bread and fry in bacon fat tossing until crispy. 
Mix all dressing ingredients together in a small bowl.
Add the lettuce to a large bowl and stir through the dressing, then add the bacon and bread.
Transfer to a salad bowl and garnish with eggs, anchovies and shaved parmesan.
FRESH TIP
If you love anchovies, add a few extra finely diced anchovies in with the Caesar dressing.