Beetroot and Cumin Hummus Ricotta Dip Recipe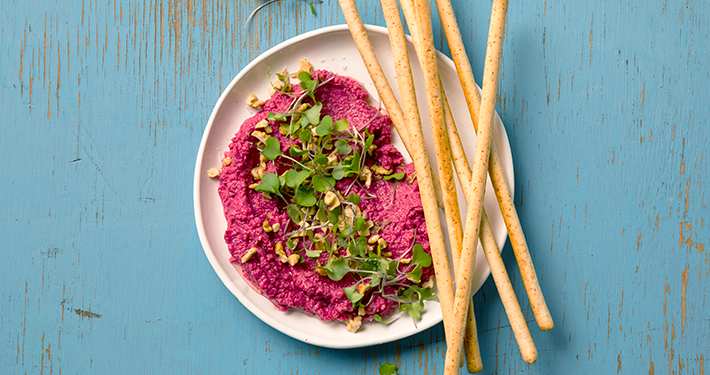 Preparation Time:
5 minutes
Ingredients
1 x 400 g can chickpeas, drained and rinsed
250 g 'ready to eat' beetroot, drained
1 garlic clove, crushed
60 ml lemon juice
1/2 tsp ground cumin
1/4 - 1/2 tsp fine salt, to taste
2 - 4 Tbsp extra virgin olive oil
Freshly ground black pepper
Microgreens and toasted walnuts, to serve
Method
Put the chickpeas, beetroot, ricotta, garlic, lemon juice, cumin and 1/4 teaspoon of salt in a food processor. Blend until combined adding some or all of the oil to get your desired consistency. 
Taste and season accordingly with black pepper and extra salt.
Transfer to a bowl and serve with toasted walnuts, microgreens and an extra drizzle of olive oil if liked.