Beef Ravioli with Wild Mushrooms and Herbs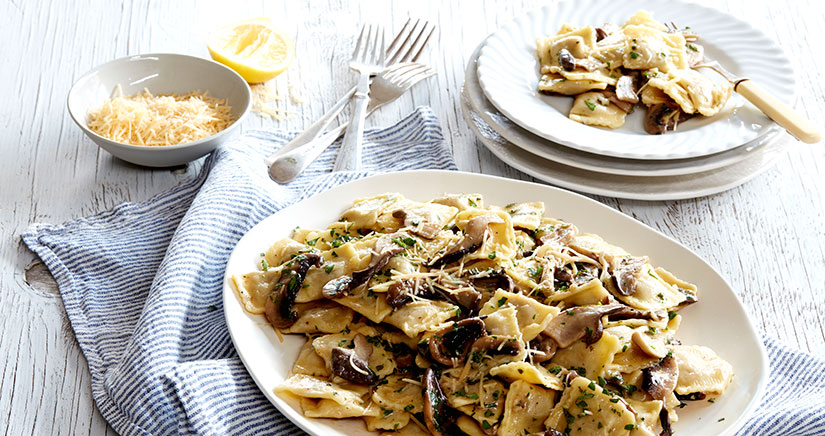 Preparation Time:
10 minutes
Please select the seprator type
Ingredients
2 x 375g packet beef ravioli
60g butter
400g mixed mushrooms (flat, Swiss brown, etc.), sliced
1 clove garlic, finely chopped
½ lemon, juice
¼ cup Perfect Italiano Parmesan, grated, plus extra to serve
½ cup chopped herbs (Italian parsley, basil, sage)
Method
Cook the ravioli according to packet instructions, drain and set aside. Alternatively, you can make your own fresh ravioli using our Perfect Ravioli recipe.
Meanwhile, heat 30g butter in a large fry pan over a medium high heat. Once the butter has melted, add the mushrooms and stir every 30 seconds. After 4 – 5 minutes or once the mushrooms begin to turn golden, add the garlic. Season well with salt and pepper, and cook for a further 2 minutes.
Add the drained ravioli to the pan, and stir through the mushrooms and garlic.
Remove the pan from the heat and then add the lemon juice, remaining butter, parmesan and herbs.  Stir though the ingredients to coat the pasta.
Serve immediately, and sprinkle with extra parmesan.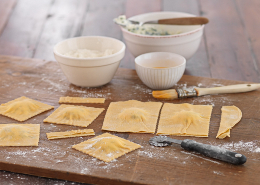 Easy, fresh ravioli
Try your hand at making fresh ravioli with our simple recipe. For a beef filling, you can use the meatball recipe from our Italian Meatball Pasta Bake.