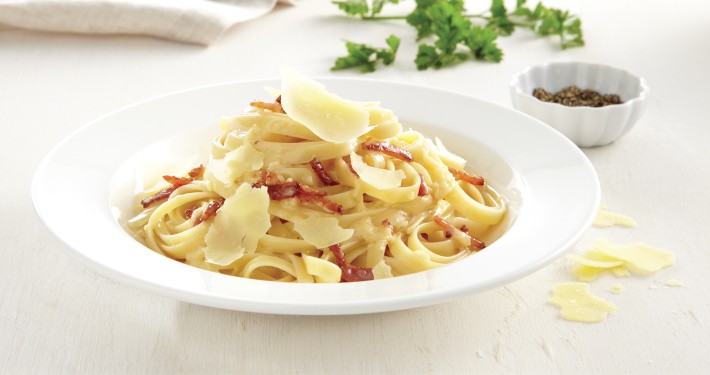 Preparation Time:
15 minutes
Ingredients
500g fettuccine
1 egg
200ml double cream

1 tbsp olive oil
200g bacon, sliced

2 cloves garlic, finely chopped
salt and pepper to taste

Method
Cook the fettuccine in a large saucepan of boiling water until just tender, following the packet directions. Drain pasta and set aside.
Whisk egg and cream in a bowl and grate half a cup of parmesan and set aside.
In a large frying pan heat oil over a medium-high heat and fry the bacon until crispy, then add garlic and fry for a few minutes.
Take the frying pan off the heat then add the pasta. While still hot add the cream and egg mixture, grated parmesan and seasoning to taste, then toss well to combine.
Serve immediately with shavings of parmesan.