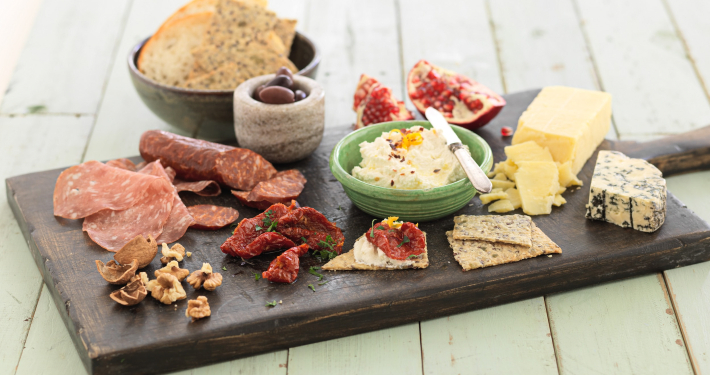 An antipasto platter is a traditional Italian appetiser plate of cured meats, cheeses, olives and vegetables served with bread. There are no right and wrong choices as to what to include on an antipasto platter, but consider a balance of colour, flavour, texture and how well the ingredients complement each other. Consider also what is to follow in the main meal.
The following platter provides a range of antipasti suitable for 8 people:
Ingredients
½ tsp finely grated lemon zest
chilli flakes
2 tsp extra virgin olive oil
250g block of Perfect Italiano Parmesan
250g piece blue cheese
1 small whole salami
80g sliced fennel salami
80g prosciutto
¾ cup mixed olives
½ cup fresh walnuts
1 pomegranate
1 red and 1 yellow roasted pepper, sliced
100 g marinated artichokes
your choice of toasted ciabatta, crackers or flatbread
fresh herbs to garnish
olive oil and balsamic vinegar for dipping bread
Method
Combine the ricotta and lemon zest and place into a small bowl. Sprinkle with chilli flakes and drizzle with olive oil.
Place the ricotta onto a large platter or wooden board.  Arrange the remaining ingredients on the platter. Cut or shave some thin slices of the parmesan and allow guests to help themselves.