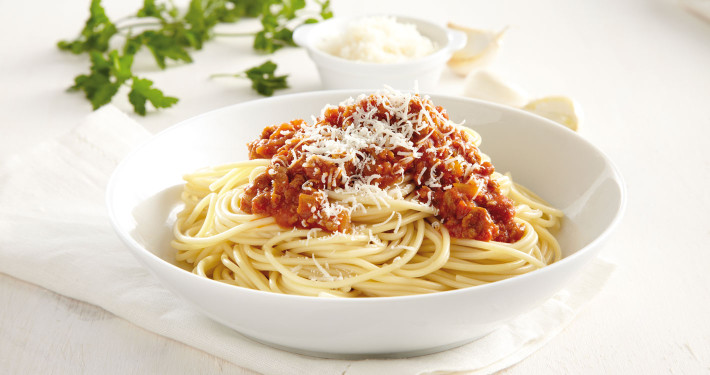 Preparation Time:
20 minutes
Cooking Time:
1 hour, 20 minutes
Ingredients
1 small onion, finely chopped
2 cloves garlic, finely chopped
2 tbsp olive oil
400g lamb mince
1 packet spaghetti, cooked
2 x 400g cans tomatoes, diced
1 tsp paprika
1 tsp dried oregano
salt and pepper
Grated Perfect Italiano™ Parmesan
Method
Saute onions and garlic in 1 tablespoon olive oil until softened, add paprika and oregano.
Remove onions from pan. Fry the lamb mince until brown in the remaining olive oil, stirring to break it up.
Return the onions and add tomatoes, paprika and oregano. Season with salt and pepper
Simmer for 1 hour stirring occasionally.
Divide pasta between bowls, spoon over Bolognese sauce and top with grated parmesan.
FRESH TIP
All types of pasta taste great with bolognese sauce