Ricotta, Pumpkin and Leek Ravioli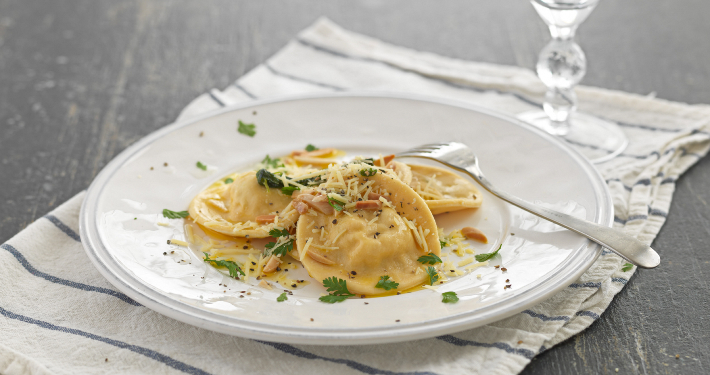 Preparation Time:
20 minutes
Ingredients
25g butter
1 small leek, washed and finely sliced
1 cup grated pumpkin
1 tsp chopped fresh thyme
freshly grated nutmeg, to taste
¼ cup Perfect Italiano Parmesan, grated
2 eggs, lightly beaten
250g fresh pasta dough - use our Perfect Ravioli recipe 
2 tbsp flaked almonds, toasted
¼ cup chopped fresh herbs (try parsley, chives, chervil)
extra virgin olive oil, for drizzling
salt and freshly ground black pepper, to taste
Method
Melt butter in a medium frying pan and cook the leek for 2 minutes over a low heat. Add pumpkin, thyme and nutmeg, cook for a further 2 minutes until softened. Cool slightly.  Add ricotta, parmesan and eggs, stir until combined.
Follow the instructions in the Perfect Ravioli recipe for making the pasta dough, rolling it and getting it ready to fill. 
Lay one pasta sheet on a lightly floured surface. Create two rows of heaped teaspoons of ravioli filling on the pasta, leaving 5-6cm intervals between each filling, and a 2cm gap around the edge of the pasta sheet. Use a pastry brush (or your fingertip) to lightly brush some water or a small amount of egg white around the filling on the pasta. Gently lay over another fresh pasta sheet. Press the pasta sheets firmly together around each filling to seal the pasta and remove any air. 
Use a ravioli wheel, a round cookie cutter, or a knife to cut rounds or squares between each filling to create the ravioli. 
Repeat this process for the remaining filling and pasta sheets.
Cook ravioli in boiling salted water, in small batches to prevent sticking.  Remove with a slotted spoon and divide between serving bowls.
To serve, sprinkle almonds and herbs over ravioli, drizzle with olive oil and season to taste.
FRESH TIP
These ravioli are also delicious served with sage brown butter. Melt 100g of butter in a saucepan, add sage leaves and almonds, cook until butter becomes a nutty golden colour.