Ricotta Agnolotti with Roast Pumpkin, Walnuts and Sage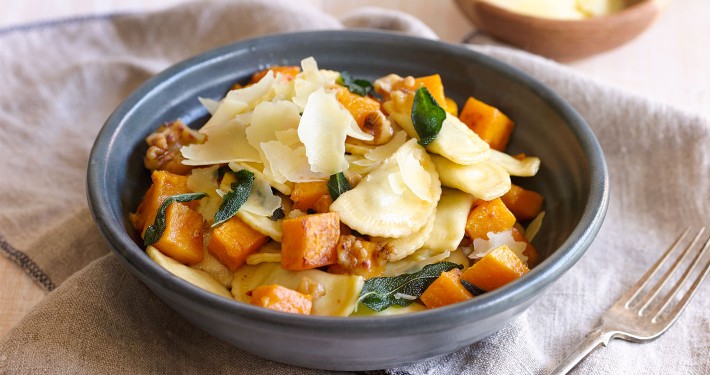 Preparation Time:
15 minutes
Ingredients
500g butternut pumpkin, peeled and cut into 2cm cubes
1 tsp chilli flakes
½ tsp dried coriander, ground
1 tbsp olive oil
375g packet Spinach and Ricotta Agnolotti
90g butter, chopped
½ cup sage leaves
½ cup walnuts, toasted, chopped
½ cup Perfect Italiano™ Parmesan, shaved
Method
Preheat oven to 200C.
In a medium sized bowl add the pumpkin, chilli, coriander and olive oil. Toss to combine. Place the pumpkin onto a large baking tray lined with baking paper, and roast in the oven for 20-25 minutes or until the pumpkin becomes tender and golden.
Cook the pasta according to packet instructions. Drain into a colander, reserving ¼ cup of the cooking water.
Melt the butter into a large, deep sided frying pan over a medium heat. When the butter begins to foam, add the sage and cook for 3 minutes or until crisp. Add the pasta, pumpkin, walnuts and reserved cooking water. Season with salt and pepper. Reduce the heat to low and toss gently to coat.
Serve the pasta topped with shaved parmesan.