Chicken Pesto and Ricotta Linguini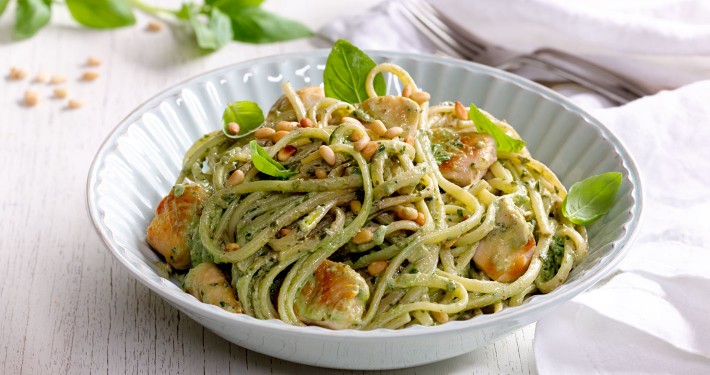 Preparation Time:
5 minutes
Method
Place the basil, pine nuts, grated parmesan and lemon juice in a food processor and blitz until finely chopped. With the motor running, gradually add the 60ml olive oil in a thin steady stream until the pesto is well combined. Set aside.
Cook the linguini according to the packet instructions. Drain the pasta into a colander.
As the pasta cooks, heat the remaining olive oil in a fry pan over a medium high heat. Sauté the chicken for 4-5 minutes or until cooked and lightly brown.
Place the pesto and drained pasta in the pan, and stir through to combine. Add the ricotta, season with salt and pepper, and gently stir through.
FRESH TIP
To make this dish simpler, use ½ cup pre-made basil pesto from the deli section of the supermarket, and mix with ricotta