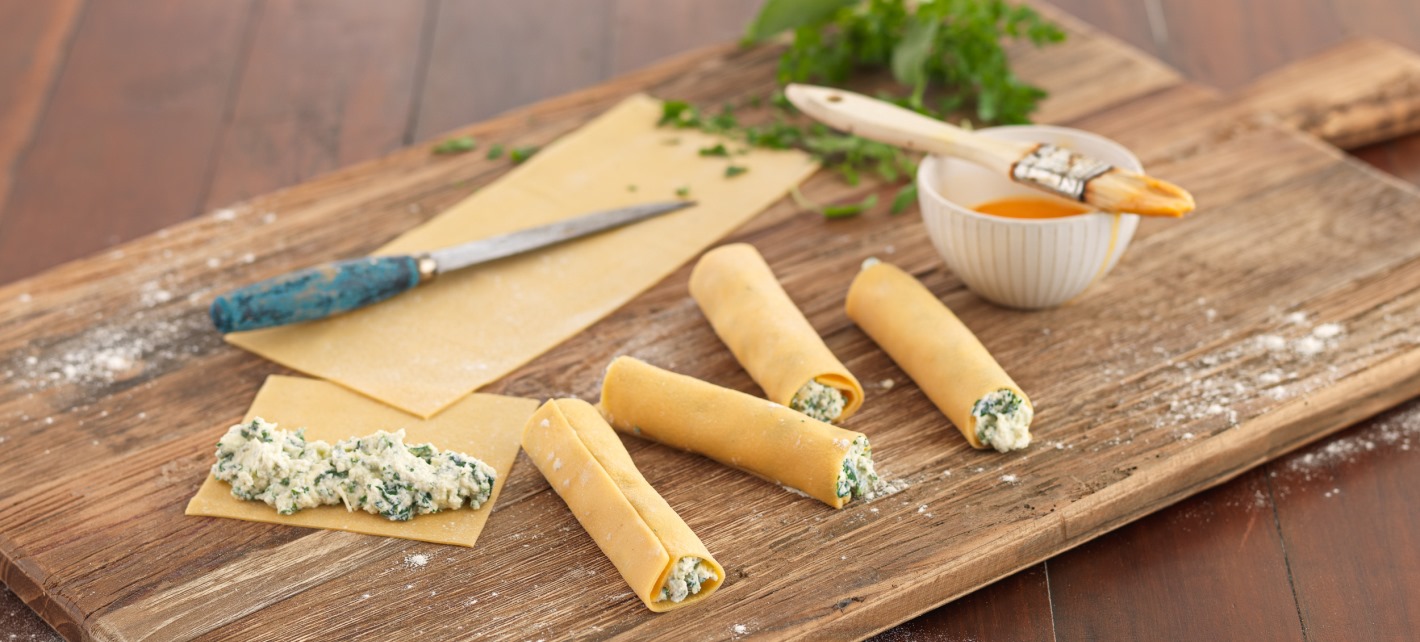 Preparation Time:
60 minutes
Cooking Time:
25-45 minutes*
Ingredients
Fresh Pasta
600g flour
¾ tsp salt
6 large eggs, lightly beaten
Assembling the Cannelloni
One quantity of pasta dough
Around 300g of prepared filling
Method
Fresh Pasta
Mix the flour and salt in a medium bowl. Make a well in the centre and add the eggs. 
Use a fork to gently incorporate the egg yolks into the flour until a dough forms. Transfer the dough to a lightly floured surface and knead for 5 minutes or until the dough is soft and silky.
Cover with plastic wrap and rest in the fridge for 30 minutes before rolling out.
Assembling the Cannelloni
Remove the dough from the fridge and divide into four equal portions. Set your pasta machine to the widest setting and gently dust the machine with a little extra flour. Flatten the dough slightly in your hands and then feed the dough through the machine. Fold the dough into thirds and feed through again. Repeat this process four more times or until smooth.
Cut the portion in half and continue to feed the pasta through the machine. With each pass, reduce the setting on the pasta machine, and repeat until the pasta is 1-1.5mm thick. Lay the two pasta sheets on a lightly floured tray or surface, and cover with a clean tea towel.
Repeat these steps for the remaining 3 dough portions to create another 6 sheets.
Once all 8 sheets are assembled, cut the pasta into 10cm x 15cm rectangular pieces.
Lay one rectangular piece on a clean surface and place two or three tablespoons of cannelloni filling along the long side of the rectangle. Use a pastry brush (or your fingertip) to brush a small amount of water onto the opposite side of the rectangle, and then very carefully roll the pasta to form the cannelloni. 
Place into a lightly greased baking dish seam-side down. Repeat this process for the remaining pasta rectangles and cannelloni filling.
*Your cooking time will depend on the dish you are creating.
FRESH TIP
Use a mix of spinach and Perfect Italiano Ricotta as filling, then cover the cannelloni with Napoli sauce, sprinkle with grated Perfect Italiano Parmesan and bake for a delicious dinner.