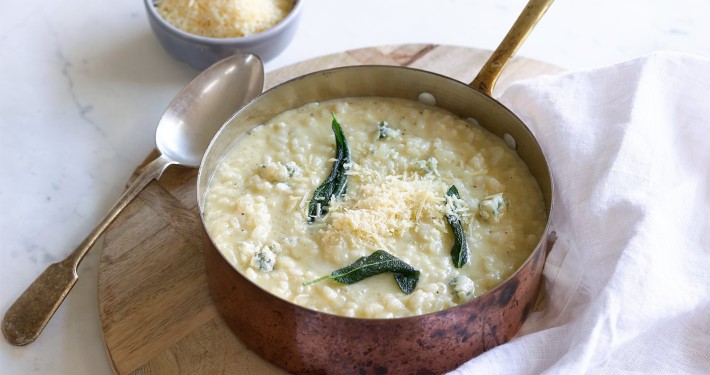 Preparation Time:
10 minutes
Method
Place the stock into a medium saucepan and place over a medium heat. Bring to a simmer, and then remove the pan from the heat and cover with a lid to keep hot.
Heat 2 tbsp oil in a large pan over a low heat. Fry the onion and garlic for 2 minutes or until the onion has softened. Add the rice and stir for a further 1-2 minutes. Increase the heat to medium and add the wine. Simmer for 5 minutes or until the liquid has almost completely evaporated. Add a ladle of stock and stir until the rice absorbs all the liquid. Continue to add one ladle at a time, stirring constantly to ensure each ladle of stock is absorbed before adding another.
Once the rice is just cooked and all the stock has been absorbed, remove the pan from the heat and stir in the mozzarella, blue cheese and Parmesan. Season with salt and pepper, and cover the risotto with a lid and allow to sit for 2 minutes.
Meanwhile, heat the remaining oil in a small fry pan over a medium high heat. Add the sage leaves and fry for 30-60 seconds or until crisp. Transfer the sage to a plate lined with paper towel to drain.
Top the risotto with the crispy sage leaves and serve immediately.
FRESH TIP
Make this risotto vegetarian by using vegetable stock instead of chicken stock.