Creamy Chicken and Sundried Tomato Risotto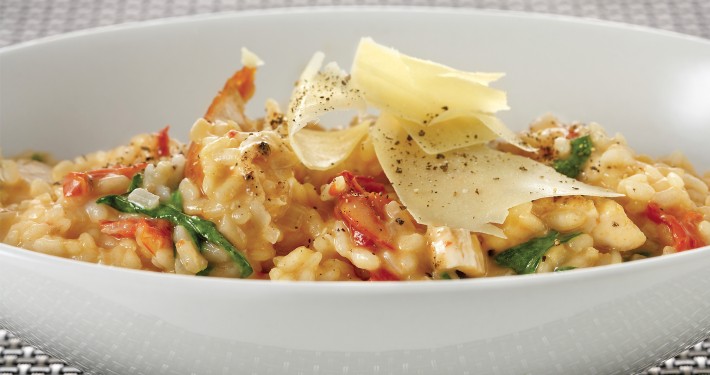 Preparation Time:
10 minutes
Ingredients
2 skinless chicken breast fillets
2 tablespoons olive oil
freshly ground black pepper, to taste
1 onion, finely chopped
1 clove garlic, crushed
400g Arborio rice
½ cup sundried tomatoes, sliced
1.25L reduced salt chicken stock, simmering
50g butter
1 cup grated Perfect Italiano™ Mozzarella
25g Perfect Italiano™ Parmesan, grated, plus extra to serve
2 cups baby spinach leaves, washed
Method
Coat chicken in half the oil and season to taste. Cook in a large heavy based saucepan for 4 minutes on each side, or until cooked through. Remove and rest for 5 minutes before slicing.
Add remaining oil, onion and garlic to saucepan and sauté for 1-2 minutes. Add rice and cook stirring for a further minute. Stir in tomatoes and 1 cup hot stock and cook over medium heat, stirring continuously until most of the stock has been absorbed. Continue adding stock 1 cup at a time, stirring until all the stock has almost been absorbed and rice is tender.
Stir in butter, mozzarella, parmesan, spinach and chicken. Serve immediately sprinkled with black pepper and extra parmesan.