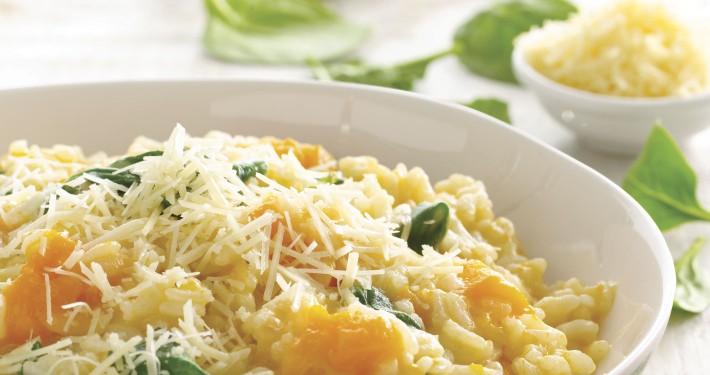 Preparation Time:
10 minutes
Ingredients
olive oil
1 brown onion, peeled and diced
2 cups arborio rice
400g pumpkin, peeled and cut into 2cm cubes
5 cups good quality stock
baby spinach leaves
2 tsp butter
Perfect Italiano™ Parmesan grated, plus extra for serving
salt and pepper to taste
Method
Heat oil in large pan and cook onion until softened. Add rice and continue to cook for a few minutesn then add pumpkin.
Add one cup of stock and cook, stirring until the stock is absorbed. Reduce heat and continue adding stock, half a cup at a time. When the stock is absorbed, add the next cupful. When you have added all the stock, check to see if the rice is cooked (it should still be slightly firm to the bite). Stir in spinach until wilted.
Add the butter and parmesan and stir through until melted. Check the seasoning, remove from heat and serve with extra parmesan.
FRESH TIP
Make arancini with leftover risotto. Bind with beaten egg, roll in breadcrumbs and fry until golden.