Traditional Hard Cheese Risotto with Garlic Butter Prawns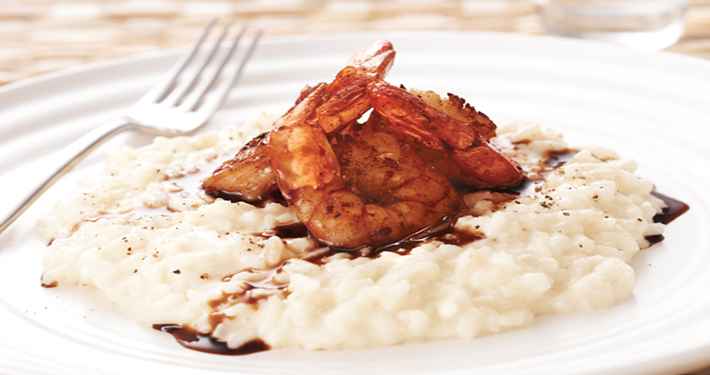 Preparation Time:
15 minutes
Ingredients
40g Anchor Butter
1 onion, finely diced
1 clove garlic, crushed
Salt and freshly ground black pepper, to taste
1 1/2 cups risotto rice (vialone nano, carnaroli, Arborio, etc)
1/2 cup white wine
1 litre good quality fish or chicken stock
2 cups milk
50g Anchor butter, extra
12 green prawns, peeled and deveined
2 cloves garlic, crushed
1/4 teaspoon sweet paprika
1/4 cup very good quality balsamic vinegar or balsamic glaze
Steps
Melt 20g butter in a large heavy based saucepan add onion and season with salt, sauté over medium heat for 5 minutes until soft and translucent. Add rice and stir for 1 minute, pour in white wine and sizzle for a further minute.
Combine stock and milk and bring to a gentle simmer. Ladle approximately 3 cups of mixture into rice and stir, let bubble over medium heat stirring occasionally until almost evaporated, continue to add 2 ladlefuls of liquid at a time, stirring occasionally until evaporated before adding the next. When the final liquid has been added, the risotto should be loose and slightly soupy, and the rice should be al dente. Turn off heat and stir in Traditional Hard Cheese, remaining 20g butter and pepper.
Melt extra butter in a frypan over medium- high heat until foamy, add prawns, garlic and paprika, toss quickly over high heat for 1-2 minutes, until prawns are just opaque and cooked.
Ladle a spoonful of risotto onto each serving plate  and top with 3 prawns, drizzle with balsamic  vinegar or glaze and black pepper.