Spinach Ricotta and Pea Pie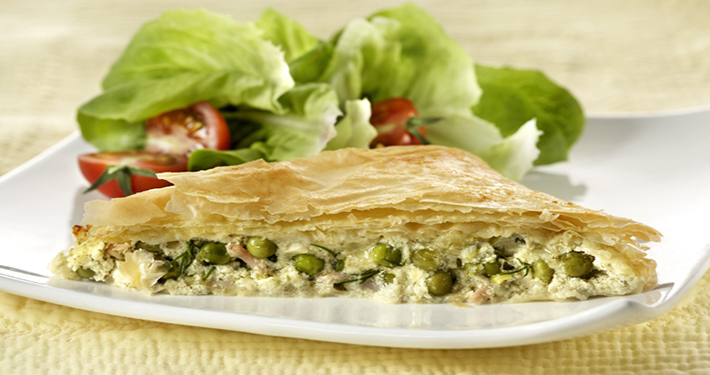 Preparation Time:
30 minutes
Ingredients
20g Anchor Butter
1 rasher bacon, finely sliced
3 spring onions, finely sliced
2 1/2 cups frozen peas
1/2 cup chopped fresh herbs (parsley, mint and dill)
35g Baby spinach, chopped
500g tub ricotta
3 eggs, lightly beaten
8 sheets filo pastry
60g Anchor Butter, extra, melted
Crisp green salad, for serving
Steps
Melt butter in a frypan and sauté bacon, spring onions, peas, spinach and herbs for 2 minutes or until softened and fragrant. Season to taste.
Transfer to a bowl, cool slightly and mix in ricotta, Perfect Italiano Perfect Pizza and eggs.
Brush 1 sheet filo pastry with melted butter and press into the base of a buttered 20cm x 30cm baking pan, allowing pastry to overhang. Repeat with four more pastry sheets.
Spoon in spinach filling.  Fold in edges of pastry. Brush another sheet of filo pastry with butter, fold in half and press on top of the pan tucking in the edges. Repeat with remaining pastry sheets. Brush remaining butter over top of pie.
Bake at 200°C for 15 minutes. Reduce heat to 180°C and cook for a further 20 - 25 minutes or until golden and set.
Allow to cool for 15 minutes before slicing. Serve with a crisp green salad.