Spinach and Ricotta Cannelloni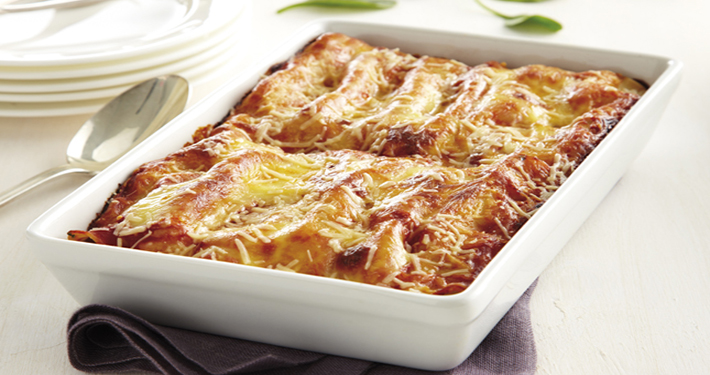 Preparation Time:
15 minutes
Ingredients
Olive oil, 2 cloves garlic, finely chopped
1/4 nutmeg, grated
1 bunch spinach,  washed and finely chopped
400g ricotta
Butter
25g grated Perfect Italiano Parmesan
16 cannelloni tubes
200g grated Perfect Italiano Mozzarella
700ml jar tomato passata
Salt & pepper to taste
Steps
Preheat oven to 180°C
In a large fry pan heat oil and butter, add garlic and fry for a few minutes then add nutmeg and spinach.
Cook spinach for 5 minutes. Place in a bowl and leave to cool.
Once spinach is cool add ricotta, parmesan and season with Salt and pepper and mix well.
Use a piping bag to squeeze mixture into the cannelloni.
In a baking dish lay cannelloni on half of the tomato passata, and then spoon the rest of the tomato passata over.
Season with Salt and pepper and drizzle with olive oil; sprinkle parmesan and mozzarella.
Bake for about 25 minutes or until golden.