Spanish Chorizo Capsicum and Olive Pizza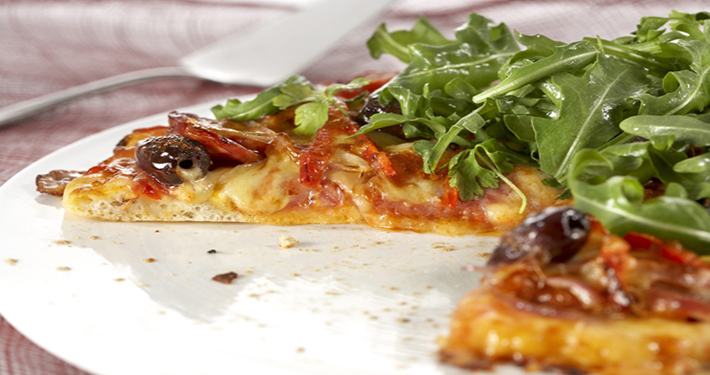 Preparation Time:
20 minutes
Ingredients
2 cups plain flour
1 x 7g sachet dry yeast
Salt & freshly ground black pepper, to taste
1 cup lukewarm water
1 tbsp olive oil
1/2 cup Italian tomato cooking sauce
250g pack Perfect Italiano Perfect Pizza
400g cured chorizo sausage*, sliced
1 red onion, sliced
1 red capsicum, thinly sliced
3/4 cup pitted black olives
1/4 cup roughly chopped fresh flat leaf parsley
50g rocket leaves
1 tbsp sherry or red wine vinegar
Steps
Combine flour, Perfect Italiano Parmesan Grated, yeast and seasonings in a large bowl. Make a well in the centre, pour in water and oil. Mix to form a soft dough, turn out and knead on a floured surface for 5 minutes until smooth and elastic. Divide dough into two and roll each piece into a 20cm round, place onto a baking paper lined tray.
Spread each pizza base with tomato sauce and 1/2 cup Perfect Italiano Pizza Plus. Top with chorizo, onion, capsicum, olives, remaining Perfect Italiano Perfect Pizza and seasonings. Bake pizzas for 25 - 30 minutes at 200°C, until cheese is melted and base is crisp.
To serve, toss parsley and rocket with vinegar and arrange over warm pizzas, before cutting into wedges.