Smoked Salmon and Frittata with Shredded Endive Salad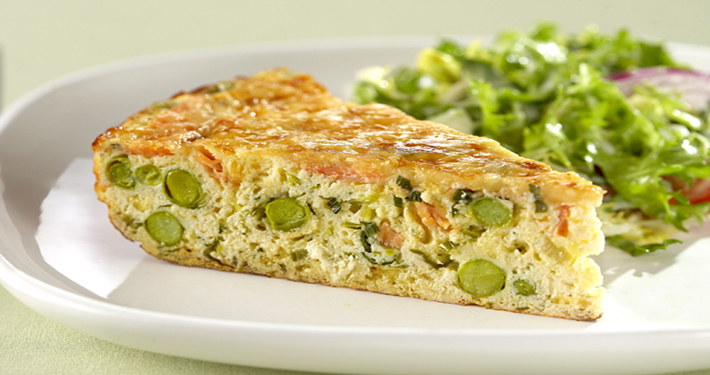 Preparation Time:
15 minutes
Ingredients
4 spring onions, chopped
100g smoked salmon, thinly sliced
Shredded Endive Salad
1/3 cup good quality mayonnaise
1 tbsp white wine vinegar
25g grated Perfect Italiano Traditional Hard Cheese
2 tsp wholegrain mustard
1 clove garlic, crushed
Salt & freshly ground black pepper, to taste
2 cups shredded curly endive
1/2 cup quartered cherry tomatoes
1/2 lebanese cucumber, sliced
1/4 red onion, finely sliced
Steps
Combine eggs, ricotta, peas, dill, half the Traditional Hard Cheese and seasonings.
Melt butter in a large non-stick frypan and sauté spring onions for 1 minute.  Add spring onions to egg mixture and pour back into frypan.  Sprinkle smoked salmon and remaining Traditional Hard Cheese over mixture.  Reduce heat, cover and cook for 10 minutes on low heat until base of frittata is cooked.
Remove lid and transfer to a hot grill, cook until frittata is golden and set.  Cool slightly before serving.
Meanwhile, blend mayonnaise, vinegar, traditional hard cheese, mustard, garlic and seasonings in a food processor until thick and creamy. Toss dressing with endive, tomatoes, cucumber and onion. Serve with frittata.