Roast Asian 5 Spice Chicken Quesadilla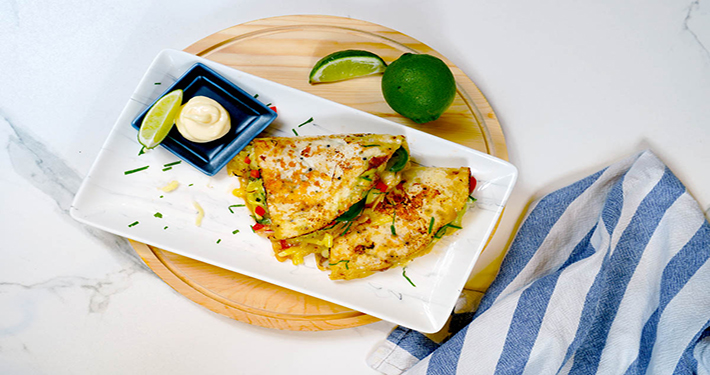 Preparation Time:
45 minutes
Ingredients
200gm boneless chicken thigh
½ onion, finely chopped
50gm spring onion, finely chopped
20gm five-spice powder
10gm oyster sauce
10gm pepper
10gm Anchor Salted Butter
8 pcs tortilla flour wraps
100gm green bell pepper
100gm red bell pepper
100gm onion
10ml cooking oil
20ml mayonnaise
20ml BBQ sauce
Salt and pepper to taste
Steps
Wash chicken thighs with salt.
Mix 50g onion, spring onion, five-spice powder, oyster sauce, soya sauce, and pepper.
Marinate chicken thighs in the mixture for at least 30 minutes.
Pan-fry till brown, or pop into the oven at 200°C for 20 minutes. Cool, then slice into strips.
Cook 100g onions, green and red bell peppers, salt and pepper till soft. Drain and set aside.
Lay tortilla flour wraps on semi hot pan, then add cooked chicken and vegetables.
Sprinkle Perfect Italiano Perfect Pizza Cheese, then fold wraps into half.
Apply Anchor Salted Butter on tortilla and pan fry till golden brown. Serve hot.