Ricotta, Sun-dried Tomato and Parsley Empanadas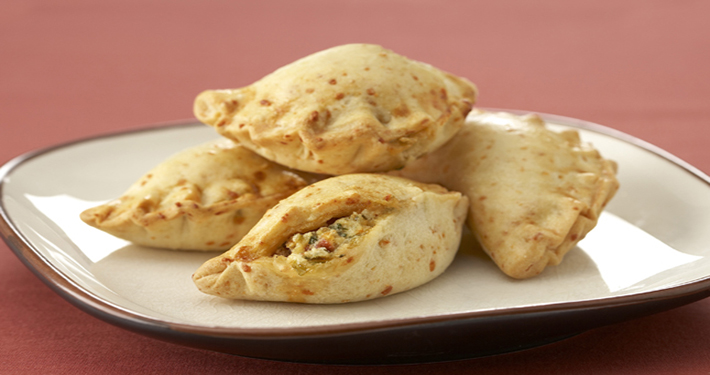 Preparation Time:
20 minutes
Ingredients
3 cups plain flour
200g Anchor butter
100ml water
1/2 cup sun-dried tomatoes
1/4 cup flat leaf parsley leaves
3 spring onions, chopped
250g tub ricotta
125g Perfect Italiano Pizza Plus 
Salt and freshly ground black pepper, to taste
1 egg, lightly beaten
Steps
Blend flour, butter and parmesan cheese in a food processor until the mixture resembles fine breadcrumbs. Add water and blend until mixture just comes together. Turn pastry onto a floured bench and knead lightly into a ball. Rest in the refrigerator for 10 minutes.
Blend tomatoes, parsley and spring onions in food processor until finely chopped. Add cheeses and seasonings and blend until combined.
Split pastry in half, roll each half out to 1cm thickness and, using a 10cm round biscuit or scone cutter, cut 12 rounds from each piece. Place spoonfuls of ricotta mixture in the centre of each round and fold in half to enclose the filling and create a half moon shape. Pinch and pleat the edges of the pastry to secure.
Place Empanadas onto a lined baking tray and brush with beaten egg. Bake at 180°C for 15 minutes until golden and crisp. Serve warm as an appetizer with drinks.