Ricotta and Herb Gnocchi with Asparagus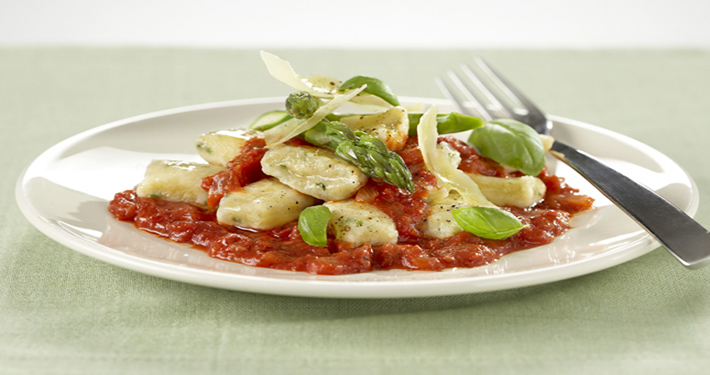 Preparation Time:
25 minutes
Ingredients
50g Anchor Butter
1 onion, chopped
2 cloves garlic, crushed
700g bottle Italian tomato cooking sauce
Salt and freshly ground black pepper, to taste
250g block Perfect Italiano Traditional Hard Cheese
500g potatoes, peeled, cooked and mashed
250g tub ricotta
2 eggs, lightly beaten
2 tablespoons chopped fresh herbs (flat leaf parsley, chives, basil)
freshly grated nutmeg, to taste
3/4 – 1 cup plain flour
1 bunch asparagus, steamed and cut into 7cm lengths
3/4 cup fresh basil leaves
Olive oil, for drizzling
Steps
Melt butter in a heavy based saucepan, add onion and garlic and cook until softened. Add tomato sauce and cook for 10 minutes, stirring occasionally, until slightly thickened. Season to taste.
Grate half the Traditional Hard Cheese and combine with cooled mashed potato, ricotta, eggs, herbs and seasonings.  Knead in enough flour to obtain a smooth, non sticky dough (amount will vary, depending on the dryness of potatoes).
Divide dough into 4 equal portions and roll each into a long sausage shape 2cm thick. Cut into 2cm lengths.  If desired, gently roll each gnocchi over the back of a fork.
Bring a large saucepan of salted water to the boil and cook gnocchi in batches until they rise to the surface. Toss immediately with hot sauce, asparagus and basil leaves.  Serve with remaining grated Traditional Hard Cheese and a drizzle of olive oil.