Pumpkin Beetroot and Traditional Hard Cheese Salad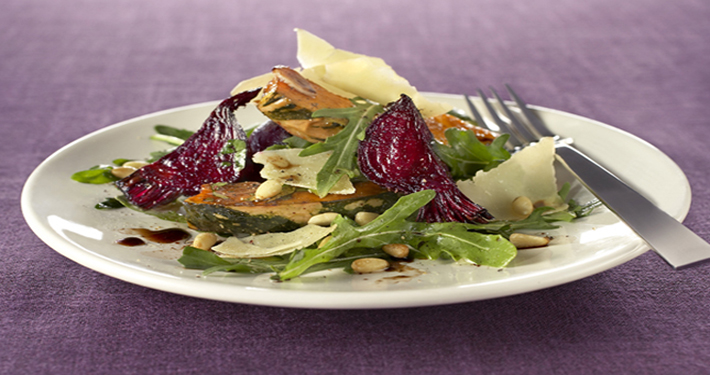 Preparation Time:
10 minutes
Ingredients
100ml olive oil
1/4 cup balsamic vinegar
1 tablespoon brown sugar
2 cloves garlic, thinly sliced
1/2 teaspoon smoked paprika
500g baby beetroot, trimmed, cut into wedges
500g pumpkin, cut into 1cm thick slices
2 tablespoons chopped flat leaf parsley
Salt and freshly ground black pepper, to taste
60g rocket leaves
1/3 cup toasted pine nuts
125g pack Perfect Italiano Traditional Hard CheeseGrated
Steps
Combine half the oil, 1 tablespoon balsamic vinegar, sugar, garlic and smoked paprika together.
Coat beetroot in half the balsamic mix and place in a baking paper lined baking dish.  Coat pumpkin in remaining balsamic mix and place in a separate lined baking dish. Bake at 180°C for 30 minutes or until tender.
Combine remaining olive oil and balsamic vinegar, parsley and seasonings to make a dressing.
Toss cooked vegetables, rocket and dressing, until well coated.