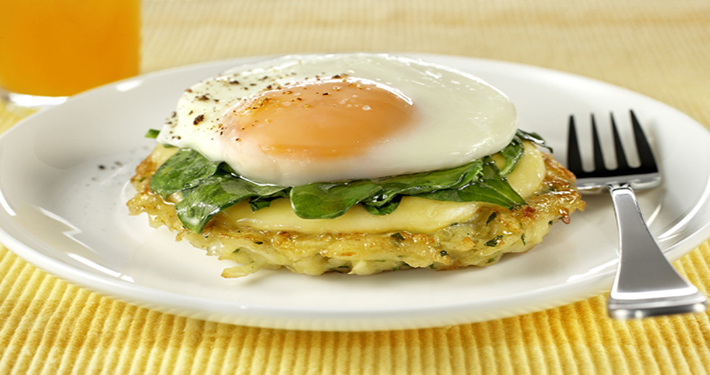 Preparation Time:
15 minutes
Ingredients
700g potatoes, peeled and grated
1 egg, lightly beaten
1/4 cup plain flour
2 tablespoons chopped fresh flat leaf parsley
Salt and freshly ground black pepper, to taste
40g Anchor Butter
150g Perfect Italiano Mozzarella Grated
1 clove garlic, crushed
150g baby spinach leaves
6 poached eggs
Freshly ground black pepper, extra, to taste
Steps
Combine potato, egg, flour, Perfect Italiano Traditional Hard Cheese, parsley and seasonings.
Form mixture into 6 patties.
Melt butter in a non stick frypan and cook patties until crisp and golden.
Top each rosti with a slice of Perfect Italiano Mozzarella Grated, cover and cook until mozzarella begins to melt.
Place rosti onto warm serving plates.
Add garlic and spinach to frypan and cook for 30 seconds until wilted.
Season to taste.
To serve, top each rosti with wilted spinach, a poached egg and season with black pepper.