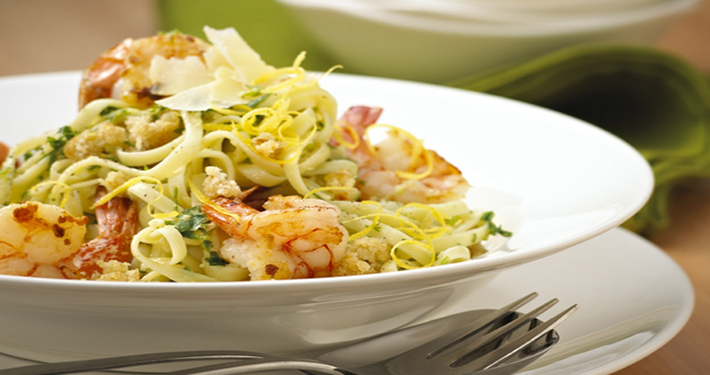 Preparation Time:
20 minutes
Ingredients
300g Linguine Pasta, cooked & drained
2 tbsp olive Oil
1 tsp Garlic, crushed
100g Perfect Italiano Parmesan , grated
1 1/2 cups Fresh Bread Crumbs
1 tbsp olive oil Extra
300g Green Prawn Meat, deveined
1/2 cup Herbs finely chopped (parsley, dill, chives)
1 Lemon zested & juiced
Fresh Ground Black Pepper to taste Perfect Italiano Shaved Parmesan
Steps
Heat oil over a medium heat for 2 minutes then sauté garlic for 1 minute, stir in the combined breadcrumbs and parmesan cheese.
Continue stirring until breadcrumbs are golden. Remove from pan and set aside.
Heat the extra olive oil over a medium heat and sauté the prawns for 2 minutes.
Stir in the herbs and lemon zest and juice.
Toss the prawns through the freshly drained pasta with the cheesy crumbs. Season with black pepper.
Garnish with Perfect Italiano cheese.