Pan Seared Salmon with Mediterranean Salsa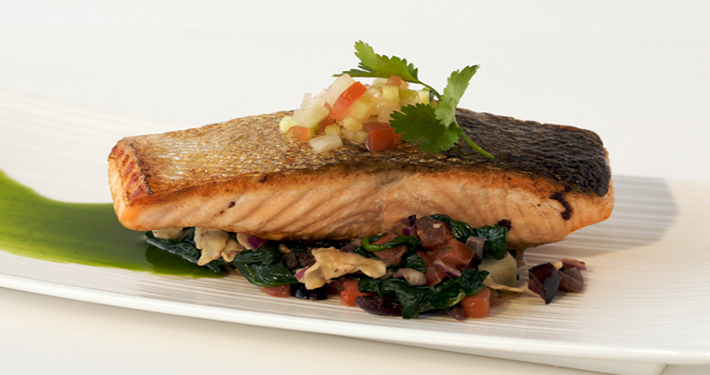 Preparation Time:
20 minutes
Ingredients
4 salmon fillets, 180g
300ml vegetable oil
100g Anchor Butter
4 medium roma tomatoes, filleted
200g kalamata olives, pitted
1 spanish onion, sliced
4 cloves garlic, sliced
400g baby spinach, washed
Course pepper grinder
1 lemon freshly squeezed
Steps
Sear salmon skin side down on a medium to high heat until crispy in 50g Anchor Butter and oil.
Turn and finish until firm. Put aside and rest.
Sauté tomatoes, olives, onion and garlic lightly with remaining 50g butter.
Add spinach and wilt and season with pepper and Perfect Italiano Grated Traditional Hard Cheese.
Add freshly squeezed lemon juice.
To make Parsley Oil: 1. Heat oil to 70°C and blend with parsley and spinach. Pass through a fine sieve. 2. On a plate place spinach mix, atop with salmon and finish with Grated Traditional Hard Cheese and parsley oil.