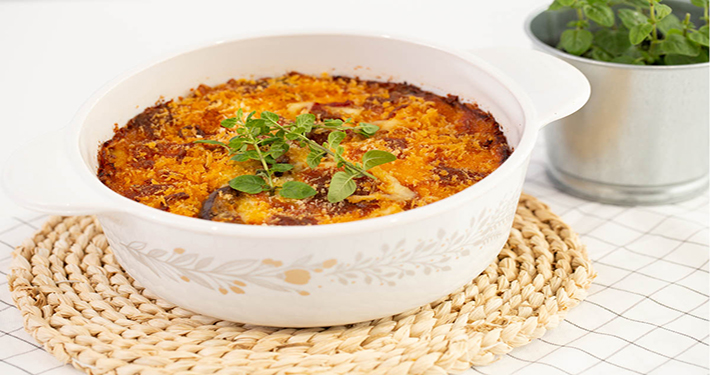 Preparation Time:
10 minutes
Ingredients
450g Perfect Italiano Mozzarella Grated cheese, divided into 150/300g
200g Anchor Salted Butter
1 tablespoon vegetable oil
1 medium onion, finely chopped
5 garlic cloves, 2 finely chopped, 3 whole
Salt and freshly ground black pepper
4 medium or 8 small eggplants (about 4 lb.), halved lengthwise, skinned leaving stalks
6-10 sprigs oregano
2 tablespoons tomato paste
1 cup coarse fresh breadcrumbs
Steps
Slice the eggplant.
Heat 2 tablespoons of Anchor Butter and vegetable oil in a Corningware Plasma Fry pan. Add onions and cook until brown for 6 to 8 minutes. Add chopped garlic and stir for 1 minute. Add tomato paste, tomatoes, salt and pepper, oregano sprigs, whole garlic cloves and 2 tablespoons of melted Anchor Butter. Reduce heat, and simmer until slightly thickened for 15 to 20 minutes. Set tomato sauce aside.
Glaze Corningware casserole with Anchor Butter.
Layer the tomato sauce and eggplants, followed by a layer of Perfect Italiano cheese. Add another layer of tomato sauce and eggplants and another layer of Perfect Italiano cheese on top. Cover tightly with foil and bake until eggplants are very soft, for 30 to 40 minutes.
Sprinkle bread crumbs on top. Bake until cheese is bubbling and breadcrumbs are golden, for about 20 minutes.
Serve on Corelle plate.