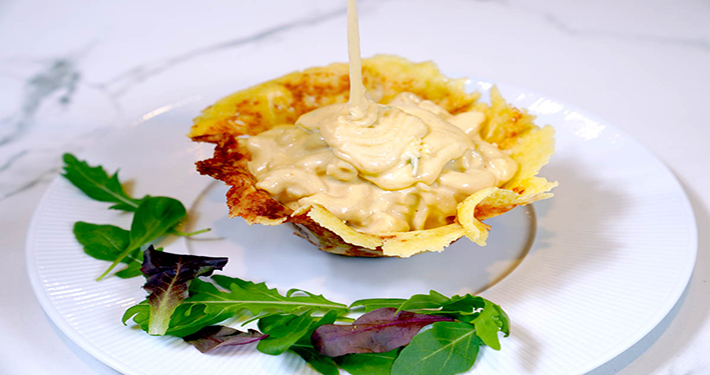 Preparation Time:
10 minutes
Ingredients
200gm Anchor Cheddar Cheese
200gm Mainland Gruyere Cheese
500gm dried elbow pasta
50gm yellow mustard
35gm Anchor Unsalted Butter
35gm plain flour
200ml whole milk
½ tbsp paprika
Salt and pepper to taste
Steps
Boil elbow pasta for 5 minutes, then drain and set aside.
Lay and flatten Perfect Italiano Parmesan Grated Cheese into circles on a lined baking tray.
Bake at 200°C for 8-10 minutes.
While still hot, use a skillet to quickly remove from baking tray.
Form into a bowl-shape by draping over a round object. Let it cool and harden.
Melt Anchor Unsalted Butter in a saucepan over medium heat. Stir in flour, salt, and pepper until smooth.
Pour milk into the mixture while continuously stirring to ensure sauce's smooth consistency.
Once sauce begins to bubble, add all cheeses and stir until cheese is melted.
Pour mac and cheese into formed cheese bowls.