Lamb Cutlets Saltimbocca with Mediterranean Sweet Potatoes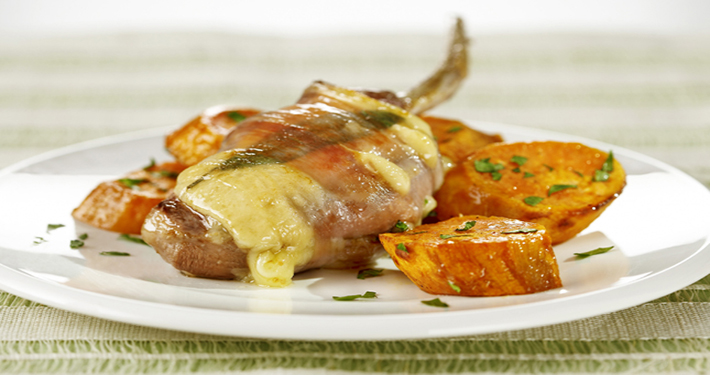 Preparation Time:
15 minutes
Ingredients
2 large sweet potatoes, peeled and cut into 2cm thick slices
1 tablespoon olive oil
1 clove garlic, crushed
Salt and freshly ground black pepper, to taste
2 tablespoons chopped flat leaf parsley
12 thick frenched lamb cutlets
250g Grated Perfect Italiano Mozzarella
24 semi dried tomatoes
12 large sage leaves
250g block Perfect Italiano Parmesan, cut into 12 thin slices
12 thin slices prosciutto
Olive oil, for cooking
Steps
Combine sweet potatoes, oil, garlic and seasonings in a non stick baking dish.  Bake at 220°C for 25-30 minutes or until golden and tender. Sprinkle with parsley.
Meanwhile, make a deep pocket in each lamb cutlet.  Place mozzarella and 2 semi dried tomatoes in each pocket.  Place a slice of Parmesan and a sage leaf on each lamb cutlet and wrap in a slice of prosciutto.
Heat an oiled non-stick frypan and seal cutlets for 1-2 minutes on each side.  Transfer to oven and cook for a further 5 minutes or until done to your liking.  Remove and rest for 5 minutes, before serving with sweet potatoes.